Six out of Ten Business 4.0™ Leaders Expect Double Digit Growth Over Next Three Years: TCS Global Study
Reading Time:
4
minutes
Tata Consultancy Services (TCS), (BSE: 532540, NSE: TCS), a leading global IT services, consulting, and business solutions organization, published the findings of commissioned research that revealed that 60 percent of companies globally – which have adopted the full range of business behaviors needed to thrive in a Business 4.0
world – expect to grow over 10 percent in the next three years. TCS' global study, titled 'Winning in a Business 4.0
World,' surveyed senior business decision makers from more than 1,200 large enterprises spanning 11 industries and 18 countries.
With the rapidly evolving business landscape and increasingly sophisticated customer expectations, businesses face constant challenges to quickly adapt and stay ahead. This global survey benchmarks large companies in their Business 4.0
growth and transformation journeys, by mapping their adoption of four critical business behaviors: driving mass personalization, creating exponential value, leveraging ecosystems, and embracing risk. The study found that:
Almost one in ten (9%) survey participants or 'Leaders' have adopted all four behaviors.
More than eight out of ten (82%) companies or 'Early Adopters' have embraced one to three of the behaviors, with mass personalization being the most prevalent (78%).
European businesses accounted for the most number of Leaders, followed by 

Asia Pacific

 and 

North America

, when adjusted for the respondent mix.
Leaders are three times more likely than 'Followers' — 9% of participants that have not yet adopted any of the Business 4.0 behaviors — to have embraced AI, blockchain and IoT technologies, and twice as likely to have embraced automation.
"The study reveals a strong link between Business 4.0 maturity and technology adoption. Leaders are more likely than other participating companies to have driven digital growth and realized double digit revenue gains," said K Ananth Krishnan, CTO, TCS. "Agile methodologies, cloud, automation, and AI are examples of tech pillars that enable Leaders to change course and adapt to shifting market dynamics much better than companies with inflexible 'idea to execution' timelines of months or years."
Business 4.0 Characteristics: Key Findings
Driving Mass Personalization
Mass personalization is the most familiar behavior to business leaders, classified by digital technologies allowing companies to offer personalized products and services at scale, which significantly improves the customer experience and leads to higher revenues.
More than three-quarters (78%) of all survey participants claim they can customize experiences at individual transactions. This has led to the following benefits:

Higher customer profitability (60%).
Increased value (59%) and volume (58%) of customer transactions.
Reduced customer churn (32%).

Personalization is more widespread among North American firms, with more than four-fifths (84%) adopting the practice.
Creating Exponential Value
Businesses can drive more value – and even new products and services – from a single transaction, using the power of data analysis, IoT and AI to forecast future customer needs and points of engagement. By integrating digital or online channels and creating new business models, organizations can unlock new revenue streams and expand their customer base by shifting from selling one-off products to offering subscriptions to products and associated services.
All surveyed companies identified the top benefits from operating an exponential value model:

Ability to target a wider range of potential customers (64%).
An expanded geographical marketplace (62%).
Higher profitability (54 percent) and revenues (50%).
New business models through collaborative ventures (50%).

This adopted behavior has progressed furthest among insurance providers and telecom firms.
Nearly four out of ten (38%) survey respondents cite concerns regarding data security as the biggest barrier to adopting this behavior.
Leveraging Ecosystems
When businesses increasingly collaborate with multiple partners – beyond just their supply chain networks – they are leveraging ecosystems. Companies are no longer forced into silos by the limits of their resources, and instead can bolster their innovation capabilities and offer consumers broader propositions through existing and new partners. Among all of the companies surveyed:
More than half (54%) leverage their wider ecosystem by collaborating with multiple partners to create new products and services.
Almost half (46%) access a dispersed workforce or the 'gig economy' when they need to boost their skills base.
The largest number of firms adopting this behavior are found in the health and life sciences, telecom and manufacturing industries.
Embracing Risk
This is the most difficult behavior for many organizations to adopt, as it goes against traditional management approaches. Business leaders are accustomed to undertaking initiatives with the least risk and fewest resources. In the digital era, however, it is important to embrace risk to stay ahead of the competition and provide better value to customers.
Almost seven out of ten (68%) organizations have not introduced agile practices widely – integral to embracing risk in establishing a culture that is conducive to transformation.
By contrast, 70% of Leaders say agile underpins every process in their organization today.
One-third (33%) of all survey participants said they plan to transform their business model within one year to embrace risk – and 47 percent plan to do so in the next three years.
"Successful business transformation journeys require a fundamental mindset shift from the top, with senior leaders driving digital behaviors forward within their organization and overcoming perceived business or cultural challenges,"said Krishnan Ramanujam, Global Head, Business & Technology Services, TCS. "Thanks to digital technologies, we have a great opportunity to move from past philosophies of optimizing scarce resources to a Business 4.0 approach that harnesses an abundance of talent, capital, data, computing resources, and broader ecosystems to solve business problems and deliver value." 
Research Methodology
TCS commissioned a survey of business leaders from more than 1,200 large firms (revenues from US$500 million to $5 billion) across 11 industries and 18 countries. Additionally, 25 qualitative interviews were conducted with business leaders across industries. Three-fourths of the respondents were either directly involved in or had oversight of their firm's digital transformation plans, with almost half in the C-suite. The survey was conducted from November to December 2018.
The full survey findings can be found at https://www.business4.tcs.com.
SOURCE Tata Consultancy Services
Crypto Earn: Now Earn 8% p.a. on EOS Deposits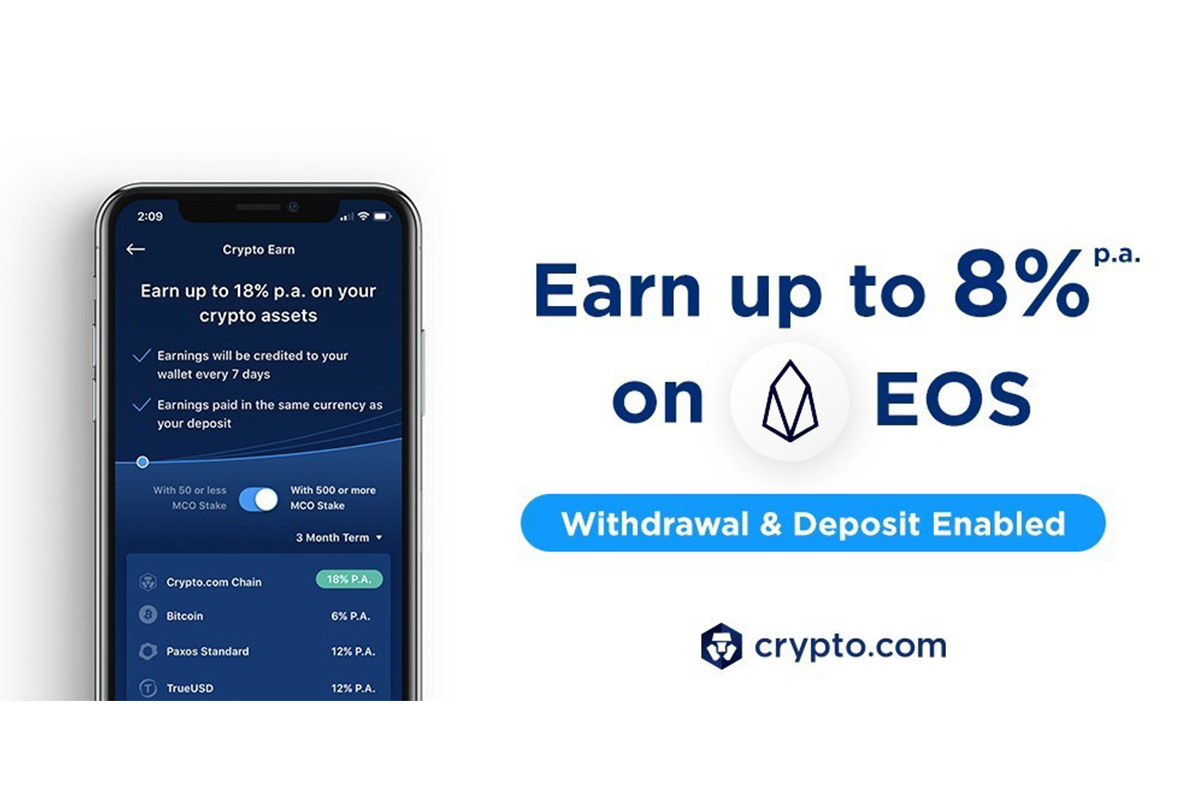 Crypto.com, the pioneering payments and cryptocurrency platform, announced today that it has added EOS to Crypto Earn, allowing users to enjoy up to 8% p.a. on their deposits.
In addition to having EOS available in Crypto Earn, deposit and withdrawal of EOS is also enabled on the Crypto.com App.
EOS.IO is a free, open-source blockchain software protocol that provides developers and entrepreneurs with a platform on which to build, deploy and run high-performing blockchain applications. It is currently supporting over 260 projects.
Crypto Earn now supports 16 coins including BTC, ETH, LTC, XRP, BNB, TUSD, PAX, USDC, MCO, BAT, LINK, CRO, MKR, DAI, PAXG with the addition of EOS. Interest is paid out weekly in the coin deposited with flexible, 1-month or 3-month terms available. Users earn more by staking at least 500 MCO.
Note: For the U.S. users, both deposit and withdrawal of EOS and Crypto Earn deposit in EOS are initially available in 38 states: Alaska, Arizona, Arkansas, California, Colorado, Delaware, Florida, Illinois, Indiana, Iowa, Kansas, Kentucky, Maine, Maryland, Massachusetts, Michigan, Minnesota, Mississippi, Missouri, Montana, Nebraska, Nevada, New Hampshire, New Jersey, North Dakota, Ohio, Oklahoma,  Pennsylvania, Rhode Island, South Carolina, South Dakota, Tennessee, Texas, Utah, Virginia, West Virginia, Wisconsin, and Wyoming.
SOURCE Crypto.com
World's Largest Blockchain Application Competition 'Klaytn Horizon' Winners Announced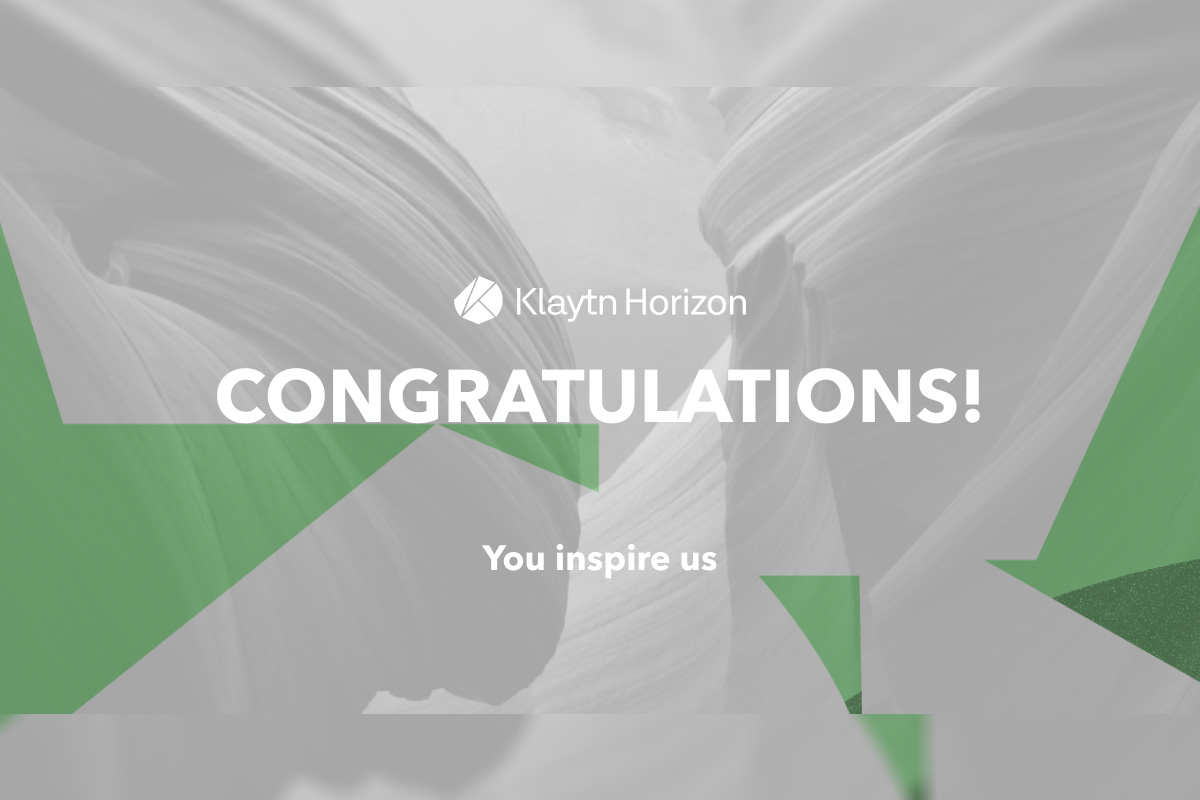 Klaytn, the leading blockchain project led by the South Korean Internet giant Kakao announced the winners for its BApp (Blockchain Application) competition, 'Klaytn Horizon.'
Klaytn Horizon invited all developers worldwide to build blockchain applications on the Klaytn platform whose mainnet launched this past June. Prioritizing its efforts towards mass blockchain adoption and ecosystem building, Klaytn prospected for competent blockchain projects that can facilitate blockchain experience.
Over 100 projects were submitted by developers across the globe including Korea, U.S., China, France, Russia, Switzerland, Slovakia, India, the Philippines, and many others. Most of the projects are Klaytn-based tools including wallets and exchanges that enhance BApp development and usability. The judges selected 15 award-winning teams that have the most potential to deliver practical service with meaningful values based on user-friendly blockchain experience.
The top five winners of the Klaytn Horizon are as follows:
Exnomy (India & Korea)
Exnomy is a hybrid cryptocurrency exchange that enables a handful of cryptocurrencies tradeable with Klaytn's token KLAY based on high scalability and competitive gas fee structure. It combines high security with fast transaction speed.
Jetstream (Korea)
Jetstream is a Chrome browser extension wallet that enables the transfer of KLAY and KCT (Klaytn Compatible Tokens) as well as Klaytn-based non-fungible tokens (NFTs). The fees incurred by users can also be delegated to a service provider to ensure an effective user experience.
Klay.exchange (The Philippines & Korea)
Klay.exchange is a decentralized exchange protocol supporting the value transfer of KLAY and KCT. Based on an intuitive swap algorithm, the service allows simple and easy blockchain experience for users.
KUSD Stablecoin (U.S. & Russia)
KUSD is the stablecoin solution that seeks to effectively mitigate the arbitration risk and price volatility by pegging KLAY to US Dollar. KUSD also provides toolkits such as 'Klaybook' to facilitate smart contract deployment and 'Klayfee,' which enables fee delegation for Klaytn-based BApps.
Odin for Klaytn (Korea)
Odin for Klaytn is a real-time smart contract auditing service that allows developers to easily analyze and review their smart contracts in order to prevent security risk. It also issues immutable audit reports to certify smart contracts that no longer contain security risks or code errors.
The first five teams of Tier 1 will receive $100,000 each, which will be awarded in KLAY, while Tier 2 (the second five teams) and Tier 3 (the third five teams) will receive $50,000 and $30,000 worth of KLAY each.
The winning teams will also be promoted and listed on 'DApp.com' and 'State of the DApps,' which are also Klaytn's partners. Over a dozen Klaytn-based BApps are already listed on both DApp.com and State of the Dapps. With the winning BApps to be additionally listed, we can expect to see a richer Klaytn ecosystem.
"We are excited to welcome prospective blockchain services in various industry domains including finance, entertainment, lifestyle, and technology," said Chase Choi, the Head of Business. "Klaytn is going to provide the winning teams with full support on business and technical sides for successful service operation and mutual growth with us. To foster a healthy blockchain ecosystem, we also excluded gambling services," he added.
For more information on the 15 winning projects, visit the official Klaytn Horizon webpage at www.klaytnhorizon.com.
SOURCE Klaytn
Assured Asset Management Launches Supply Chain Finance Solution with Shui On Group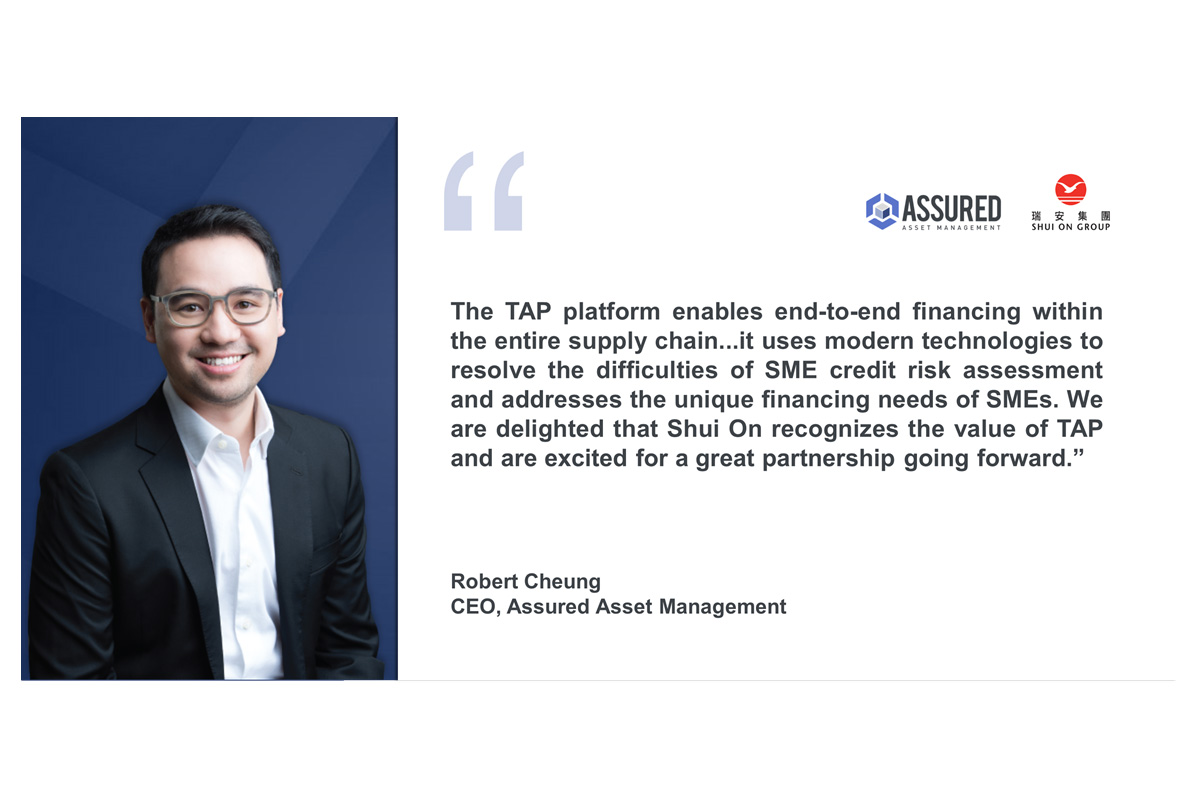 Assured Asset Management ("Assured"), a Hong Kong-based technology-driven asset manager, has launched its Traceable Accounts Payable ("TAP") platform with the Shui On Group. TAP is a blockchain-based digital payment system backed by approved supplier account receivables and contract payables issued by anchor enterprises. The partnership aims to leverage TAP to illuminate transaction flows deep within Shui On's construction supply chain.
TAP addresses a crucial pain point for business leaders: the lack of efficient, reliable and transparent methods for SMEs buried within supply chains to access liquidity. TAP leverages blockchain technology to record the transfer of goods and services and provides verifiable records of SME involvement in deep-tier anchor operations that enable access to liquidity regardless of SME size. TAP adds a new capacity for liquidity providers, banks and credit investors to access the yields of SMEs while using the credit profile of anchor enterprises through verifiable and immutable sourcing records.
Assured is partnering with the Shui On Group to integrate Assured's core competency in financial technology development with Shui On's Chinese construction supply chain to launch the platform. Together, the two firms aim to release a solution that benefits all stakeholders within Shui On's supply chain, including Shui On, SME counterparties and financial institutions.
"Technology-enabled supply chain finance for small and medium enterprises is a significant growth opportunity in today's financial industry," said Robert Cheung, CEO of Assured Asset Management. "The TAP platform enables end-to-end financing within the entire supply chain using modern technologies to resolve the difficulties of SME credit risk assessment and address the unique financing needs of SMEs. We are delighted that Shui On resonates with the value of TAP and are excited for a great partnership going forward."
"A robust supply chain is instrumental for Shui On. By creating an immutable audit trail, the TAP platform will benefit SMEs within our supply chain as well as our core business by illuminating transactions deep within our supply chain and reducing the risk of fraud and error," said Allan Zhang, Executive Director of Shui On. "This partnership will provide a powerful solution to strengthen the overall efficiency and transparency of our construction supply chain. We see great long-term business value in adopting TAP to issue account receivables among our suppliers."
Assured and Shui On will begin the onboarding process in December 2019 and anticipate opening the TAP platform for liquidity providers in Q1 2020.
SOURCE Assured Asset Management Limited