GoMining Reveals Cutting-Edge North NFT Collection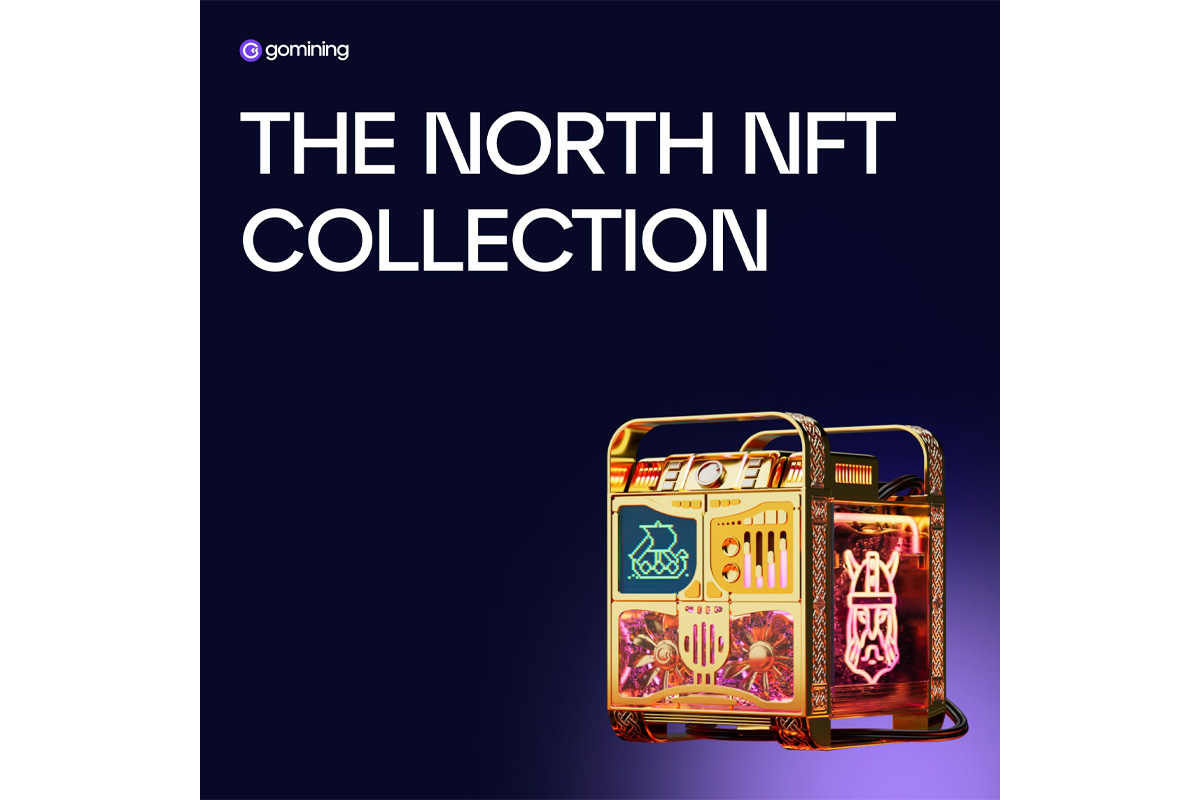 Leveraging its vast experience since 2017, GoMining is leading the way in bitcoin mining, providing users with an effortless and user-friendly service. Now the company has introduced the so-called North Collection.
The company's NFT collections provide daily bitcoin rewards to holders, with their substantial fleet of real equipment installed across the globe. Continuing their successful streak after the highly acclaimed East NFT Collection, this latest release marks the next installment in a series of crypto art devoted to various regions. GoMining's fresh North NFT Collection draws inspiration from three key references: the critical role of low temperatures in mining device operations, the restraint and resilience found in northern regions, and the empowering force driving their endeavors. These references served as the foundation for the collection's captivating images, reflecting the core principles behind GoMining's innovative approach to bitcoin mining.
GoMining's new NFT series is issued on the Binance Smart Chain, utilizing the BEP-20 standard for seamless integration and accessibility. With an impressive energy efficiency rating of 35 W/TH, these NFTs ensure the quickest payback period for holders. Moreover, the NFTs offer a diverse range of computing power options, spanning from 1 to 128 TH/s, accommodating various mining requirements and preferences.
In just over two years, GoMining has achieved remarkable growth. The platform has distributed more than 2,000 BTC to holders, issued 20,000 NFTs, and elevated its overall hash power from 100,000 TH/s to an astounding 2,359,877 TH/s. This exponential progress showcases the project's resounding success and commitment to innovation in the cryptocurrency and NFT space.
As per GoMining's CEO Mark Zalan, the company is doing everything to offer a broad variety of options to its holders, proving its sustainability and transparent approach. "We've been in operation for over two years providing consistent rewards for our holders daily. All of our efforts are aimed at showing tangible infrastructure behind the product – in this case real equipment with data centers in different regions like Norway."
GoMining remains dedicated to introducing updated versions of its NFTs, originally crafted to provide easier access to bitcoin mining. All NFT collections, such as the renowned collaboration with MMA star Khabib Nurmagomedov, combine visually stunning designs with real equipment-generated computing power, offering continuous mining rewards to their owners.
The new North collection is available here.
New study reveals the cryptocoins that the US wants to sell the most
A new study has revealed the cryptocoins Americans want to sell the most, with Bitcoin taking the top spot.
The research was conducted by crypto gambling experts at cryptogambling.tv, who analyzed Google Trends data to establish the cryptocurrencies the US wants to sell the most out of the 24 largest cryptocurrencies by market cap, giving an average weekly search volume for the interest in selling each cryptocoin.
The study revealed that Bitcoin has the highest number of searches from Americans looking to sell this cryptocurrency. Searches to 'sell bitcoin' were the highest at the end of July in the United States and worldwide.
Many factors might sway someone to sell their Bitcoin, with the main reason being the current financial and economic strain many countries in the world are facing, prompting people to tap out and cut their losses. Last year the price of the cryptocoin dropped below $16,000, which highlights its downfall tremendously, and with Bitcoin's value being based purely on speculation, it can be challenging for those who don't know whether or not to stick with it. 
Ethereum is the second cryptocoin Americans want to sell the most, with searches for 'sell Ethereum' being the highest in September worldwide. Although the currency is known for owning around 20% of the global crypto market, those wanting to invest tend to agree that it is one of the safest long-term coins. The current price of Ethereum is $1,458, and with the cryptocoin shifting its process from PoW to PoS, it's predicted its supply may reduce.
XRP is the third cryptocoin Americans want to sell the most, as it is predicted that its price will be near $0.198 by the end of this year. XRP runs by RippleNet and is a low-cost coin which is excellent for those who want to begin investing; however, due to the current lawsuit proceedings with the SEC, there is a significant decrease in interest for the currency, which has undoubtedly urged investors to act fast and sell.
The fourth cryptocoin Americans want to sell the most is Dogecoin, which, although it has remained one of the top cryptocurrencies in the industry, is still not a solid investment for many investors. The coin rose over 15,000% over 2021, and for a cryptocoin which was created as a joke when it first began, it has truly exceeded expectations. Many avoid investing in Dogecoin due to its price volatility, no supply limit, and not being as widely accepted as other competing coins; these are reasons why many also want to sell.
Shiba Inu is the fifth cryptocoin that Americans are looking to sell, and while the coin is top-rated, it is advised that those looking to invest should not use it as a long-term investment. The coin is down almost 92% since 2021, but many investors hope it will still go up in time as it is currently at over 589 trillion.
An expert at cryptogambling.tv commented: "The cryptocurrency market is forever fluctuating, and with the increase in economic stress worldwide, it can be an uncertain and nerve-racking time for those hoping to make sound investments in the crypto world.
"This study offers an interesting insight into which cryptocoins Americans currently want to sell, with Bitcoin being the most popular to sell." 
TEM now available to buy and trade on Probit
US investors can buy and trade $TEM for the first time via Probit
San Francisco; 9th November 2022: Today the UK based advanced technology business and peer-to-peer digital currency platform, Temtum, has announced that US investors can buy and trade $TEM for the first time via Probit, the next generation digital ecosystem.
Probit provides unlimited access to Bitcoin, Ethereum and over 800 altcoins, within a range of markets. With Temtum now available, the temporal blockchain provides the most efficient and cost effective payment system network, enabling nationwide access to banking via a system which is ultra-fast, scalable and energy-efficient.
With access to Probit, US investors will be able to invest with financial freedom away from centralised institutions. $TEM can be purchased via credit or debit card, without the need for existing bitcoin, creating more efficiency and streamlining the investment process. This will enable the processing of transactions on very low-resourced devices at extremely high speeds, with an unparalleled degree of security.
Ronald Chan, Probit CEO, commented: "As the first cryptocurrency launched on the temporal blockchain, we expect $TEM to be a successful addition to the Probit exchange. Temtum will allow investors in the US the opportunity to benefit globally to buy and trade on Probit."
Temtum CEO, Richard Dennis, added: "Temtum represents a compelling mass-market proposition at a global level. With $TEM now available to buy and trade on Probit, we can reach investors in the US through a fully scalable network."
For more information about Temtum, visit the website here: https://temtum.com/
– ENDS –
About Temtum:
Temtum is a UK headquartered advanced technology business that has developed its own innovative advanced blockchain protocol and cryptography. Our Temporal Blockchain is ultra-fast, quantum secure, energy efficient, environmentally friendly, highly scalable and works on very low resourced devices. It is fully operational utilising our settlement token TEM which is a sustainable payment coin www.temtum.com.
PR Contact:
Leah Jones
CommsCo
[email protected]
+44 7876 117760
Source: RealWire
NYDIG Promotes Leaders Amidst Record Bitcoin Balances
NYDIG, a leading bitcoin company, today announced the promotion of executives Tejas Shah and Nate Conrad to the roles of CEO and President, respectively. NYDIG's bitcoin balances hit all-time highs in Q3, up almost 100% year-over-year, and revenue is up 130% through Q2, with another increase when the firm closes its books on Q3. Building on this momentum, Shah and Conrad will focus on accelerating NYDIG's investment in its industry-leading Mining Solutions franchise serving the largest North American miners and in its platform technology business, helping banks and non-bank enterprises utilize the Lightning Network for next-generation wallets and global payments.
Outgoing CEO Robert Gutmann and outgoing President Yan Zhao will remain at Stone Ridge Holdings Group, parent company of NYDIG, which they co-founded with Ross Stevens in 2012, working closely with Stevens across the full portfolio of Stone Ridge businesses. Mr. Gutmann will continue to serve on the NYDIG board.
"When markets crumble, character emerges. A flight to quality from the most risk-aware institutional investors has relentlessly driven bitcoin, and revenue, to NYDIG the last 12 months," said Ross Stevens, Founder and Executive Chairman of NYDIG. "Even during the height of the crypto frenzy in H2 2021, our risk management discipline kept us entirely away from DeFi, centralized lending platforms, and the uncollateralized lending market. The firm's balance sheet is the strongest it's ever been, and we're now investing aggressively into a capital-starved market. Robby and Yan are delivering the business to Tejas and Nate in phenomenal shape.
Further, financial gravity is operating. In Q3, the reality of fiat debasement overcame risk-off driven liquidity shocks, driving the dollar, yen, euro, and pound all down against bitcoin. Against this backdrop, Lighting network growth is exponential, with access to about 100,000 people in August 2021 growing to more than 150 million today. NYDIG is privileged to play our part facilitating global access to non-state money, especially at this critical time."
"Since its founding in 2017, NYDIG has become a leading global Bitcoin company. I'm proud of everything we've accomplished so far, and I cannot wait to see what the incredible NYDIG team will achieve in the coming years and decades," said Gutmann. "As leaders of our biggest businesses, Tejas and Nate have been driving forces in NYDIG's success. They are ready to lead NYDIG in its next phase of growth."
Shah and Conrad were most recently NYDIG's Global Head of Institutional Finance and Global Head of Payments, respectively. Prior to joining NYDIG in 2020, Shah had a nearly 20-year career at Goldman Sachs where he was a partner. Conrad joined Stone Ridge in 2016 and NYDIG in 2020, after also beginning his career at Goldman Sachs.
"I'm honored to lead this incredible organization on our important mission of Bitcoin for All," added NYDIG's new CEO, Tejas Shah. "The whole NYDIG team remains laser-focused on delivering the world-class financial and technological solutions our clients know and expect from the firm. Our strong balance sheet, especially in today's market, is a powerful differentiator in serving our clients.
NYDIG's best-in-class cold storage custody solution remains the foundation for everything we do, from our innovative capital and credit intermediation solutions to our dominant position servicing the miners securing the Bitcoin network. Now it's time for Lightning. We are excited to deliver next-generation wallet and payment solutions – faster, cheaper, safer – to our expanding set of enterprise technology clients."