nChain appoints Peter Coulson as its new group COO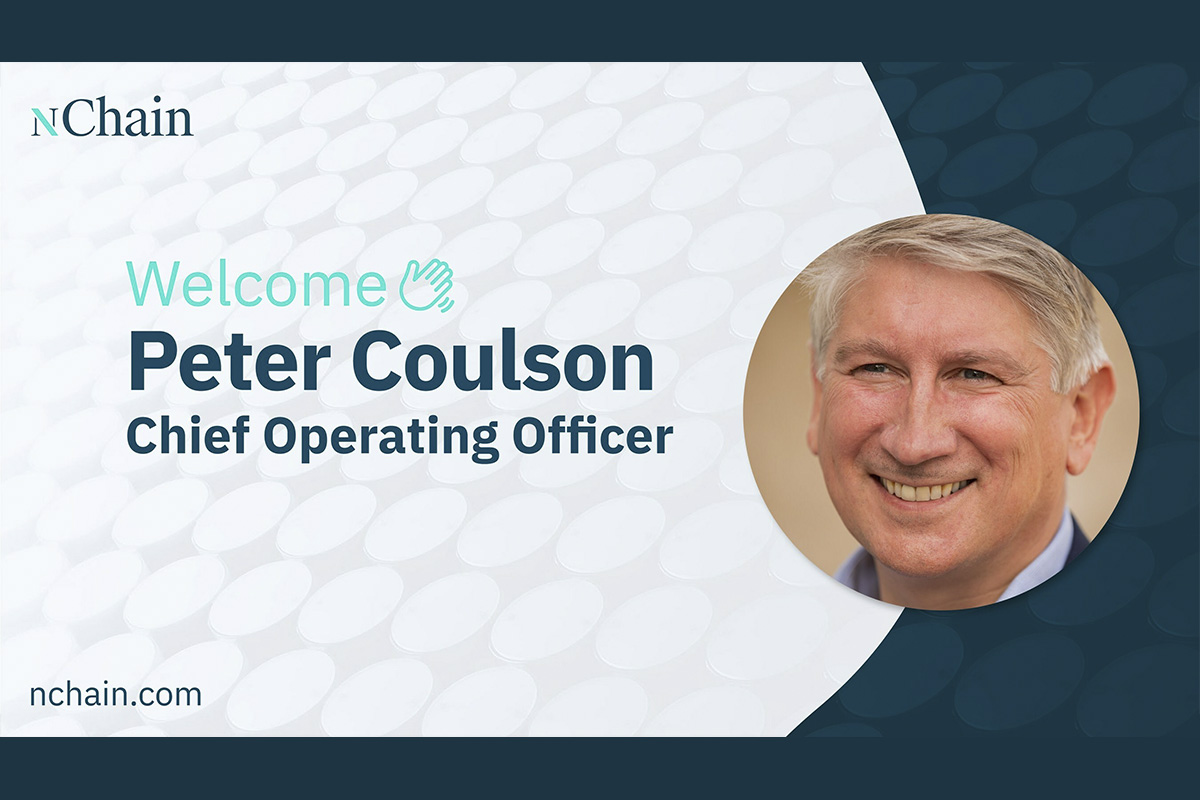 nChain, a leading global provider of blockchain technology, IP licensing and consulting services, today announces the appointment of Peter Coulson as its new group Chief Operating Officer.
Combining a world-leading Web3 IP portfolio together with knowledge, expertise, tools, and products, nChain is well-positioned to enable a seamless business transition from Web2 to Web3.
Peter Coulson joins nChain with a diverse career in strategic, operational, and technical leadership. He has navigated challenging operational environments, led research commissioning, overseen HR, finance, and commercial endeavours, and managed high-value portfolios.
Peter's last appointment in the Royal Navy saw him Command of the Naval Base in Plymouth; a prominent Nuclear facility and Western Europe's largest naval base. While specialising as a Weapons Engineer, Peter's management and leadership experience is broad – including leading the Royal Navy's surface ship through-life support portfolio, Combat System capability management, working in Private Office of Defence Ministers, engineering and training roles at the Devonport Waterfront, personnel policy in MOD, space research and serving in HMS ILLUSTRIOUS and several frigates. Additionally, Peter has held positions at Harland & Wolff, the University of Plymouth, and various charities.
nChain Chairman Stefan Matthews commented "The entire board is delighted that Peter will be bringing his diverse range of experience and skills to help us create the world that we envision with our technology. Since our inception in 2015 as a blockchain research & development hub, we've expanded the limits of what is possible with this technology. With the foundations now laid with our unmatched expertise on this technology built up over many years, Peter will be a key piece of the puzzle as we ramp up our company growth."
"At nChain, our mission is to eliminate inefficiencies, lower costs and speed up processes, so the global economy will be open, accessible, and secure for everyone. Peter is a crucial hire into our executive team to help us in realising these goals. His focus will be on creating the operational efficiencies that will supercharge our business operations to make the best use of the expert skills and resources we possess." nChain CEO Christen Ager-Hanssen commented.
Peter Coulson expressed his excitement of joining nChain as the company is rapidly growing. He is motivated to create organisational excellence that allows nChain to deliver on its vision, make positive social impact, and create a brighter future.
Gate.io Passes Hacken's Annual Security Assessment, Furthering System and Asset Security
Gate.io, a leading crypto exchange trusted by millions of users, has passed an annual security assessment conducted by Hacken, a renowned blockchain security auditor. The assessment follows a recent broadening of its partnership with Hacken, which introduced smart contract auditing to various components of Gate Web3, Gate.io's decentralized ecosystem.
The latest security assessment included rigorous evaluation and penetration testing using industry-standard methodologies. Hacken's team of experts subjected the exchange's infrastructure to simulated cyberattacks based on real-world scenarios. The assessment confirmed that Gate.io's security measures are up-to-date and capable of defending the platform and user accounts against the latest cyber threats.
The assessment was carried out as part of a partnership between Gate.io and Hacken. The partnership dates back to 2020, when Hacken assisted the exchange in obtaining a CER certification. Since then, the partnership has expanded to include bug bounties, annual penetration tests, and smart contract audits. When combined with Gate.io's multilayered security measures and thorough in-house reviews, users are provided greater security guarantees.
"Security is a shared responsibility in the blockchain and digital asset sector. The ramifications extend beyond any one platform, and each has a role to play. Our dynamic partnership with Hacken ensures that Gate.io's role is fulfilled and users can safely embark on their digital asset journey confidently," said Dr. Lin Han, founder and CEO of Gate.io.
The latest security assessment and penetration test confirm Gate.io's adherence to following best practices and meeting the demands of an ever-changing threat landscape, helping build users' faith in Gate.io and the blockchain and digital asset sector as a whole. In addition, the partnership with Hacken has resulted in greater security assurances on Gate.io's centralized and decentralized platforms. The dynamic and robust nature of the partnership ensures that users' funds are safeguarded from current and potential future threats.
Friend.Tech and Base Anti-Phishing Boosted By CoolWallet's Web3 SmartScan
Base's new killer DApp, the decentralized social network Friend.tech, is breaking transaction records with record adoption, but is being targeted by hackers and scammers through phishing attacks.To raise awareness of the importance of hardware wallet protection and promote its powerful Web3 SmartScan transaction screener, CoolWallet has launched a Web3 Guardian competition.
Coinbase's new Ethereum layer-2 chain, Base, has become a favorite for DApp developers and early investors due to its outstanding performance and the innovative projects it attracts. One DApp in particular, the decentralized social media platform Friend.tech, has driven the bulk of its growth in recent weeks. helping Base repeatedly reach new transaction volume highs despite difficult market conditions.
Friend.tech's rapid rise has garnered widespread attention- according to the latest data, the daily active user (DAU) count of friend.tech have surpassed the million mark, with its transaction volume consistently hitting new records and its total value locked (TVL) now surpassing $35 million.
However, with any crypto trends comes new security risks, in this case a familiar foe, phishing attacks. This type of social engineering attacks dominate crypto thefts, which by June 2023 had already hit the $650 million mark across the Web3 sector. This month alone has already seen successful attacks targeting high-profile victims Mark Cuban and Vitalik Buterin and stealing millions in the process.
As a result, Base and Friend.tech users are urged to use a reputable hardware wallet to secure their tech digital assets by protecting their private keys and screening transactions.
In response, hardware wallet maker CoolWallet, which natively supports the Base ecosystem, has launched an anti-phishing campaign titled  Web3 Guardian Competition to create awareness and promote its unique defense capabilities such as CoolWallet SmartScan, which proactively screens all Web3 transactions and flags malicious behavior or smart contract vulnerabilities before users are exploited.
How Friend.tech works
Friend.tech has garnered a cult following among crypto enthusiasts as one of the first decentralized social networks to be built on the Base blockchain. It's powered by blockchain and smart contracts, where users must buy "shares" of another person in order to chat with them. Its tagline is "Your network is your net worth".
To use Friend.tech, users must first sign up with their Twitter (X) account, create a profile and then start trading shares of other users who have also signed up. A user's share price is determined by factors like their popularity, reputation, and overall demand.
Buying shares of another user gives you access to them, allowing you to message them directly and chat. The more shares you buy, the higher a priority your messages will be.
Friend.tech recommends hardware wallet protection
With crypto phishing attacks claiming even high-profile victims such as Vitalik Buterin and Mark Cuban as victims in recent weeks, it's no surprise that Friend.tech also places great emphasis on asset security.
It therefore recommends that users utilize a hardware wallet for enhanced protection against threats like phishing sites. Storing assets offline makes them less accessible to online hackers, thus offering greater security.
CoolWallet's SmartScan Flags Web3 Phishing Threats
CoolWallet (established in 2014) has since the launch of its CoolWallet Pro flagship model in 2021 pivoted strongly to securing Web3 assets, which requires users to interact with DeFi protocols that could potentially drain their accounts if they authorize the wrong transaction.
CoolWallet Pro in particular makes for an ideal Friend.tech hardware wallet as it's one of the first cold wallets to support the Base network, and boasts several elite security features, such as:
an EAL6+ secure element
biometric verification (both on phone and device)
tamper proof and waterproof design
Importantly, its CoolWallet App comes with real-time Web3 transaction analysis scanning called Web3 SmartScan.
While cold storage is as safe as can be, the biggest vulnerability remains human error or a lapse in judgment, where the user is tricked into authorizing a bad transaction or revealing their recovery seed or private key to a bad actor.
CoolWallet's SmartScan, available on its CoolWallet App, provides Web3-native protection against phishing attempts. It automatically screens transactions and flags attempted phishing, suspicious transactions and smart contract vulnerabilities. This makes using cold storage even safer to use, and elevates CoolWallet above other hardware wallet brands.
Web3 Guardian Competition- Secure Your Crypto for the Next Bull Run!
To promote Web3 asset protection among blockchain users and help them safeguard their crypto portfolio with SmartScan until the next bull run, CoolWallet is launching a global new competition aimed at enhancing user security awareness with generous rewards to participating users.
For more details, please visit their website's event page or X (Twitter) account
OKX Proof of Reserves Ranked Highest Quality Among Major Exchanges as 11th Consecutive Monthly Reserves Report is Published
OKX, a leading global Web3 technology company and crypto exchange, has published its industry-best 11th consecutive monthly Proof of Reserves (PoR), showing balances of USD$11.2 billion in primary assets, as its PoR was given the highest quality rating among major exchanges.
OKX's latest PoR comes days after Castle Island Ventures partner and blockchain and Proof of Reserves expert Nic Carter ranked OKX highest of all major centralized exchanges on its quality of Proof of Reserves. In his ranking, he cited OKX's credibility, knowledge of leadership, demonstrated commitment to transparency and overall PoR quality as reasons for his positive assessment.
OKX's PoR covers 22 commonly used digital assets and shows that OKX has maintained a reserve ratio exceeding 100% for 11 consecutive months across all those assets. In addition to BTC, ETH and USDT, the assets included are: USDC, XRP, DOGE, SOL, OKB, APT, DASH, DOT, ELF, EOS, ETC, FIL, LINK, LTC, OKT, PEOPLE, TON, TRX and UNI.
OKX's current reserve ratios are as follows:
BTC: 102%
ETH: 103%
USDT: 102%
OKX Global Chief Commercial Officer Lennix Lai said: "With our 11th consecutive Proof of Reserves report, we are reaffirming our unwavering commitment to greater transparency and trust within the crypto industry. At OKX, we believe that integrity is the cornerstone of our success, and our PoR stands as a testament to our dedication to safeguarding user assets. As we approach a full calendar year of consecutive PoR releases, we have never been more committed to continuing to raise the bar for transparency in our sector."
In August, OKX conducted two Twitter surveys to measure the sentiment of the online community with regards to the importance of PoR and transparency. Poll results showed that 84% of respondents say monthly PoR reports are either 'somewhat important' or 'very important' and 88% state that transparency is either 'somewhat important' or 'very important' when choosing which crypto platform to trust.
OKX has seen hundreds of thousands of users engage with its PoR, visit its PoR page and view their self-audits since first launching its PoR page in late 2022. The open-source verification tool allows users to independently verify OKX's solvency and confirm their assets are backed by OKX reserves while maintaining their privacy.
OKX has published over 210,000 addresses for its PoR program, and will continue to allow the public to view its asset flows.
Users can view the latest PoR report, reserve ratios, and verify OKX's solvency here.