Zara Leads BrandZ™ Top 30 Most Valuable Spanish Brands as Apparel and Retail Sectors Face Challenging Climate
Reading Time:
4
minutes
In a ranking dominated by apparel brands, Zara has retained the top spot as the most valuable Spanish brand with a value of $24.8 billion in the BrandZ
 Top 30 Most Valuable Spanish Brands report released today by WPP and Kantar.
Overall, the 2019 ranking value grew 1% to $103.9 billion but there were many brands that defied the average. CaixaBank(No. 13, $1.7 billion) was the fastest riser, up 36%, followed by oil & gas brand Repsol (No. 8, $3.0 billion) and national airline Iberia (No. 25, $430 million), which both grew by 19%.
The top five remained unchanged with telecom provider Movistar (No. 2, $21.6 billion), banking giant Santander (No. 3, $9.9 billion), finance brand BBVA (No. 4, $8.5 billion) and energy titan IBERDROLA (No. 5, $5.6 billion) completing the list.
Kindness and difference drive growth
When asked to associate which of 24 positive or negative words best described brands, those identified by Spanish consumers as 'kind' exceeded average growth rates by 5%. Iberia is perceived as the kindest brand in the Spanish Top 30, indexing 126 (where the average is 100).
Growth was also driven by a clear perception of 'difference', a measure of consumer recognition that the brand stands apart from rivals in its sector. Spanish brands in the ranking scoring highly on difference are worth an average of $6.9 billion, compared to $1.4 billion for those with a low difference score.
David Roth, WPP said: "Offering something different is vital for building brand value today if companies want to stand apart from their competition and grow their business faster. Being indistinct means slower growth and a greater vulnerability to fast-moving rivals. A significant proportion of brands clearly recognise this but there is potential for many of Spain's most valuable brands to improve in this area."
The BrandZ Top 10 Most Valuable Spanish Brands 2019
| | | | |
| --- | --- | --- | --- |
| Rank 2019 | Brand | Category | Brand value 2019 ($M) |
| 1 | Zara | Apparel | 24,801 |
| 2 | Movistar | Telecom providers | 21,614 |
| 3 | Santander | Banks | 9,879 |
| 4 | BBVA | Banks | 8,473 |
| 5 | IBERDROLA | Energy | 5,591 |
| 6 | Naturgy* | Energy | 5,110 |
| 7 | Endesa | Energy | 4,922 |
| 8 | Repsol | Oil & Gas | 3,018 |
| 9 | Massimo Dutti | Apparel | 2,210 |
| 10 | Mercadona | Retail | 1,818 |
Apparel's competition
Zara's top spot reflects its leadership in 'fast fashion trend' retailing, and while the brand saw a minor drop in value (1% year-on-year), it performed significantly better than the apparel sector as a whole, which fell 6% in total value over the same period.
Spain's international apparel brands are being challenged by greater competition and currency fluctuations, as well as the ongoing challenge of transferring sales to digital platforms, all of which are impacting their brand value. The best-performing brand in this category was Pull&Bear (No. 11), which rose 5% to $1.8 billion and targets a younger group than many of its competitors. The retail sector also faced many of the same challenges, with total brand value down by 20%.
Banking boost
CaixaBank, this year's fastest riser, stands out due to strong perceptions of its corporate responsibility (indexing 139); it is also the only Spanish bank to be perceived as 'friendly' (indexing 110). The banking sector saw the largest change in total brand value, up 12% to $21.9 billion, with six brands in the Top 30, including Bankia (No. 16, $1.1 billion), Banco Sabadell(No. 22, $516 million) and Bankinter (No. 29, $242 million).
Better financial results, fuelled by greater consumer optimism, rising employment, combined with the benefits of offering greater convenience to consumers via tools such as digital banking have helped boost brand valuations across the sector.
Other trends highlighted in this year's BrandZ Top 30 Most Valuable Spanish Brands report include:
A healthy brand is a valuable brand: The ranking shows a strong correlation between good health – as measured by BrandZ's 'Vitality Quotient' metric – and brand value. The 10 healthiest brands in the ranking have an average value of 

$6.8 billion

, while the bottom 10 have an average value of just 

$868 million

. Healthy brands can be found across a range of sectors including beer, insurance, retail and travel but the healthiest is oil and gas company Repsol, which indexes 133.
Brands need to show they can be trusted: While personal confidence is generally up, trust in institutions and the government is down, driving a growing need for honesty and transparency from Spanish brands – not least because trust is closely linked to recommendation, which is increasingly important in the digital age.
Martin Wohlfart, Head of Client Management, Madrid, Kantar Millward Brown, said: "For Spanish consumers we've seen it's not just about cost but about valuing brands that are perceived to support local jobs and communities. Brands should maximise the presence they have in Spain, seize the opportunities to build on trust and demonstrate their contribution to national pride."
The BrandZ Top 30 Most Valuable Spanish Brands report and rankings, and a great deal more brand insight for key regions of the world and hundreds of market sectors, are available online here.
The Spanish report, rankings, charts, articles and more can also be found via the BrandZ app. The BrandZ app also contains the same features and functionality for all BrandZ regional reports and can be downloaded free for Apple IOS and all Android devices from www.brandz.com/mobile or by searching for BrandZ in the respective iTunes or Google Play app stores.
Background and methodology
Created by WPP and Kantar, the valuation behind the BrandZ
Top 30 Most Valuable Spanish Brands was conducted by brand equity research experts Kantar. The methodology mirrors that used to calculate the annual BrandZ Top 100 Most Valuable Global Brands ranking, which is now in its 13th year.
The ranking combines rigorously analysed market data from Bloomberg with extensive consumer insights from over 3.7 million consumers around the world, covering more than 166,000 different brands in over 50 markets – including opinions from over 61,500 Spanish consumers on more than 700 brands in over 49 categories.
The ability of any brand to power business growth relies on how it is perceived by customers. As the only brand valuation ranking grounded in consumer opinion, BrandZ's analysis enables Spanish brands to identify their strength in the market and provides clear strategic guidance on how to boost value for the long-term.
The BrandZ Top 30 Most Valuable Spanish Brands is the most definitive and robust ranking of the country's brands available, and the brands ranked all meet these eligibility criteria:
Brand is originally created in 

Spain

The brand is owned by a publicly listed company traded on a credible stock exchange or a private company with financials publicly available
*Please note that consumer fieldwork was carried out prior to the rebrand of Gas Natural Fenosa as Naturgy.
The suite of BrandZ brand valuations and reports also includes China, India, Indonesia, Latin America, Argentina, Brazil, Chile, Colombia, Mexico, Peru, UK, US, France, Germany, The Netherlands, Australia, South Africa, Italy and Global rankings.
SOURCE Kantar
Crypto Earn: Now Earn 8% p.a. on EOS Deposits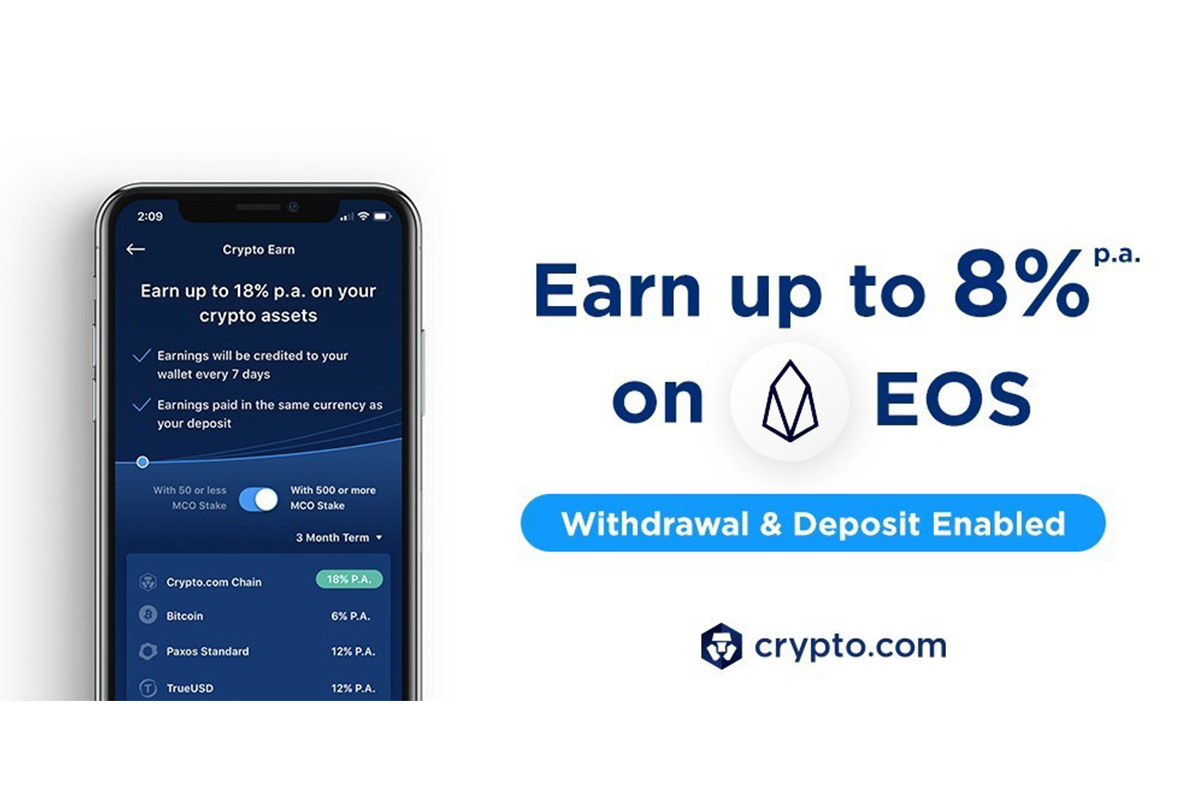 Crypto.com, the pioneering payments and cryptocurrency platform, announced today that it has added EOS to Crypto Earn, allowing users to enjoy up to 8% p.a. on their deposits.
In addition to having EOS available in Crypto Earn, deposit and withdrawal of EOS is also enabled on the Crypto.com App.
EOS.IO is a free, open-source blockchain software protocol that provides developers and entrepreneurs with a platform on which to build, deploy and run high-performing blockchain applications. It is currently supporting over 260 projects.
Crypto Earn now supports 16 coins including BTC, ETH, LTC, XRP, BNB, TUSD, PAX, USDC, MCO, BAT, LINK, CRO, MKR, DAI, PAXG with the addition of EOS. Interest is paid out weekly in the coin deposited with flexible, 1-month or 3-month terms available. Users earn more by staking at least 500 MCO.
Note: For the U.S. users, both deposit and withdrawal of EOS and Crypto Earn deposit in EOS are initially available in 38 states: Alaska, Arizona, Arkansas, California, Colorado, Delaware, Florida, Illinois, Indiana, Iowa, Kansas, Kentucky, Maine, Maryland, Massachusetts, Michigan, Minnesota, Mississippi, Missouri, Montana, Nebraska, Nevada, New Hampshire, New Jersey, North Dakota, Ohio, Oklahoma,  Pennsylvania, Rhode Island, South Carolina, South Dakota, Tennessee, Texas, Utah, Virginia, West Virginia, Wisconsin, and Wyoming.
SOURCE Crypto.com
World's Largest Blockchain Application Competition 'Klaytn Horizon' Winners Announced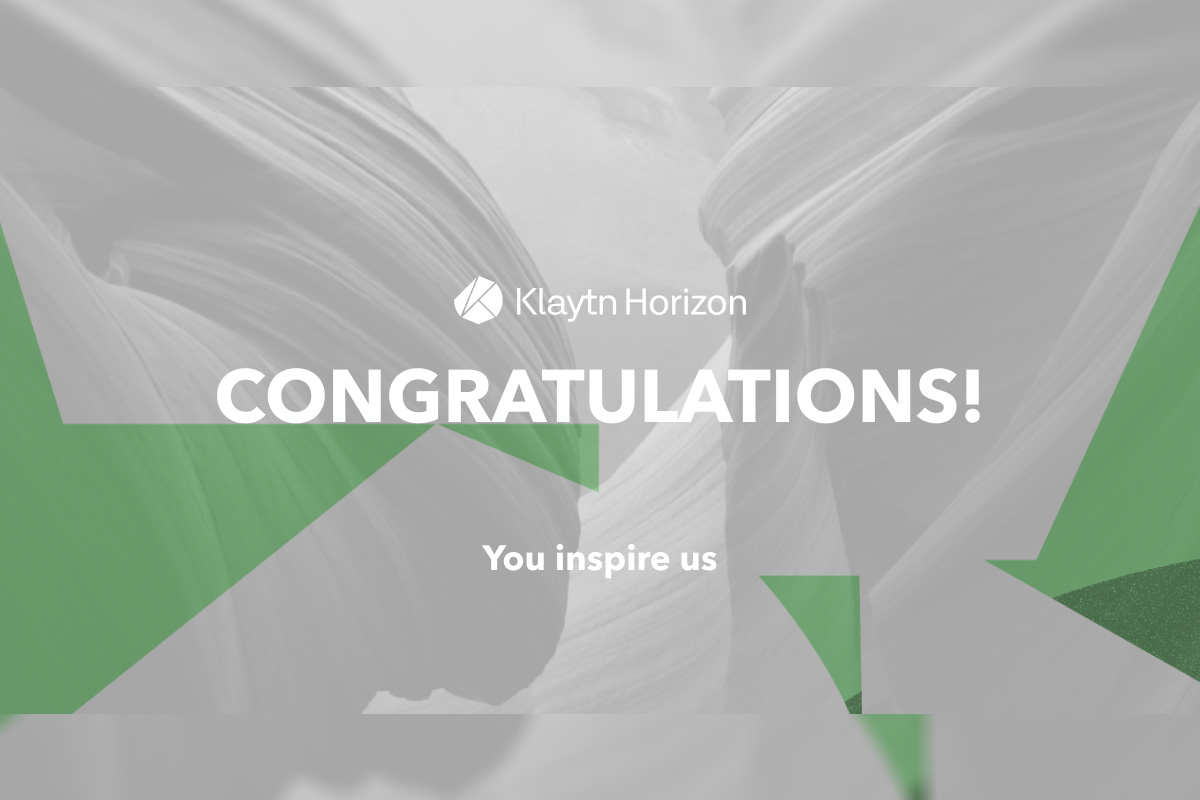 Klaytn, the leading blockchain project led by the South Korean Internet giant Kakao announced the winners for its BApp (Blockchain Application) competition, 'Klaytn Horizon.'
Klaytn Horizon invited all developers worldwide to build blockchain applications on the Klaytn platform whose mainnet launched this past June. Prioritizing its efforts towards mass blockchain adoption and ecosystem building, Klaytn prospected for competent blockchain projects that can facilitate blockchain experience.
Over 100 projects were submitted by developers across the globe including Korea, U.S., China, France, Russia, Switzerland, Slovakia, India, the Philippines, and many others. Most of the projects are Klaytn-based tools including wallets and exchanges that enhance BApp development and usability. The judges selected 15 award-winning teams that have the most potential to deliver practical service with meaningful values based on user-friendly blockchain experience.
The top five winners of the Klaytn Horizon are as follows:
Exnomy (India & Korea)
Exnomy is a hybrid cryptocurrency exchange that enables a handful of cryptocurrencies tradeable with Klaytn's token KLAY based on high scalability and competitive gas fee structure. It combines high security with fast transaction speed.
Jetstream (Korea)
Jetstream is a Chrome browser extension wallet that enables the transfer of KLAY and KCT (Klaytn Compatible Tokens) as well as Klaytn-based non-fungible tokens (NFTs). The fees incurred by users can also be delegated to a service provider to ensure an effective user experience.
Klay.exchange (The Philippines & Korea)
Klay.exchange is a decentralized exchange protocol supporting the value transfer of KLAY and KCT. Based on an intuitive swap algorithm, the service allows simple and easy blockchain experience for users.
KUSD Stablecoin (U.S. & Russia)
KUSD is the stablecoin solution that seeks to effectively mitigate the arbitration risk and price volatility by pegging KLAY to US Dollar. KUSD also provides toolkits such as 'Klaybook' to facilitate smart contract deployment and 'Klayfee,' which enables fee delegation for Klaytn-based BApps.
Odin for Klaytn (Korea)
Odin for Klaytn is a real-time smart contract auditing service that allows developers to easily analyze and review their smart contracts in order to prevent security risk. It also issues immutable audit reports to certify smart contracts that no longer contain security risks or code errors.
The first five teams of Tier 1 will receive $100,000 each, which will be awarded in KLAY, while Tier 2 (the second five teams) and Tier 3 (the third five teams) will receive $50,000 and $30,000 worth of KLAY each.
The winning teams will also be promoted and listed on 'DApp.com' and 'State of the DApps,' which are also Klaytn's partners. Over a dozen Klaytn-based BApps are already listed on both DApp.com and State of the Dapps. With the winning BApps to be additionally listed, we can expect to see a richer Klaytn ecosystem.
"We are excited to welcome prospective blockchain services in various industry domains including finance, entertainment, lifestyle, and technology," said Chase Choi, the Head of Business. "Klaytn is going to provide the winning teams with full support on business and technical sides for successful service operation and mutual growth with us. To foster a healthy blockchain ecosystem, we also excluded gambling services," he added.
For more information on the 15 winning projects, visit the official Klaytn Horizon webpage at www.klaytnhorizon.com.
SOURCE Klaytn
Assured Asset Management Launches Supply Chain Finance Solution with Shui On Group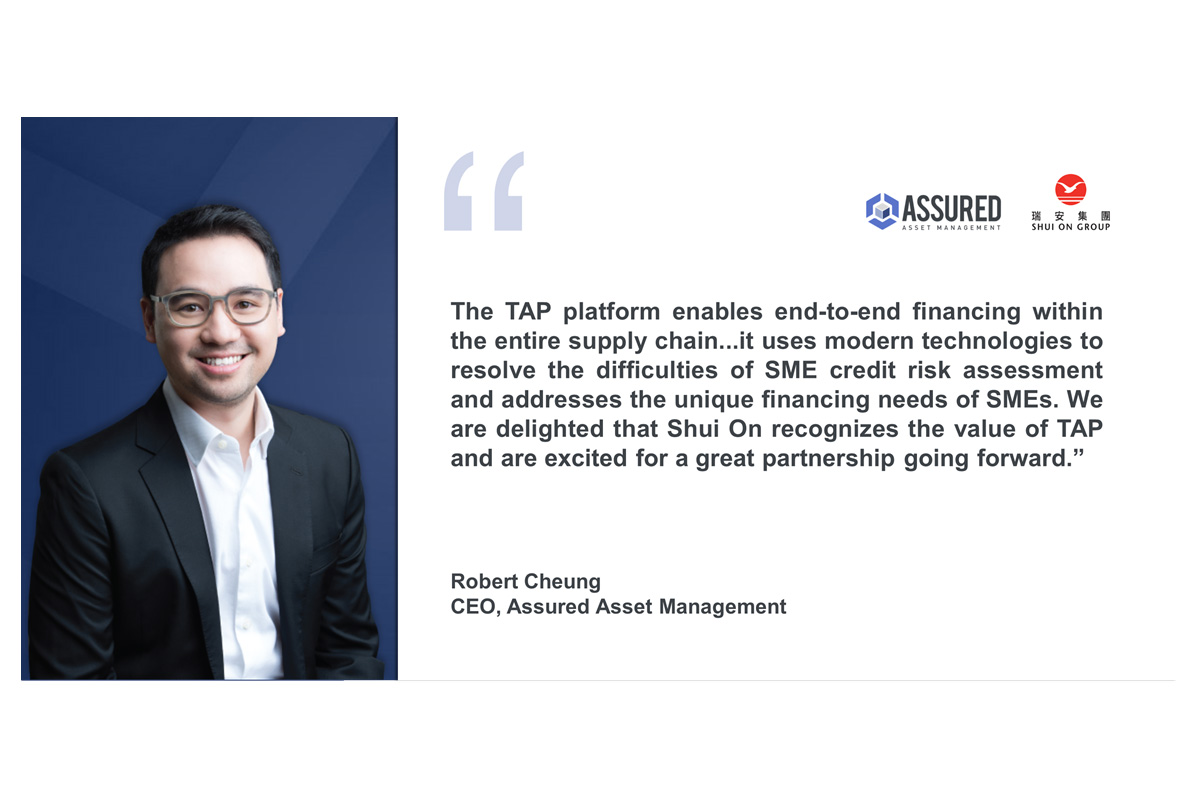 Assured Asset Management ("Assured"), a Hong Kong-based technology-driven asset manager, has launched its Traceable Accounts Payable ("TAP") platform with the Shui On Group. TAP is a blockchain-based digital payment system backed by approved supplier account receivables and contract payables issued by anchor enterprises. The partnership aims to leverage TAP to illuminate transaction flows deep within Shui On's construction supply chain.
TAP addresses a crucial pain point for business leaders: the lack of efficient, reliable and transparent methods for SMEs buried within supply chains to access liquidity. TAP leverages blockchain technology to record the transfer of goods and services and provides verifiable records of SME involvement in deep-tier anchor operations that enable access to liquidity regardless of SME size. TAP adds a new capacity for liquidity providers, banks and credit investors to access the yields of SMEs while using the credit profile of anchor enterprises through verifiable and immutable sourcing records.
Assured is partnering with the Shui On Group to integrate Assured's core competency in financial technology development with Shui On's Chinese construction supply chain to launch the platform. Together, the two firms aim to release a solution that benefits all stakeholders within Shui On's supply chain, including Shui On, SME counterparties and financial institutions.
"Technology-enabled supply chain finance for small and medium enterprises is a significant growth opportunity in today's financial industry," said Robert Cheung, CEO of Assured Asset Management. "The TAP platform enables end-to-end financing within the entire supply chain using modern technologies to resolve the difficulties of SME credit risk assessment and address the unique financing needs of SMEs. We are delighted that Shui On resonates with the value of TAP and are excited for a great partnership going forward."
"A robust supply chain is instrumental for Shui On. By creating an immutable audit trail, the TAP platform will benefit SMEs within our supply chain as well as our core business by illuminating transactions deep within our supply chain and reducing the risk of fraud and error," said Allan Zhang, Executive Director of Shui On. "This partnership will provide a powerful solution to strengthen the overall efficiency and transparency of our construction supply chain. We see great long-term business value in adopting TAP to issue account receivables among our suppliers."
Assured and Shui On will begin the onboarding process in December 2019 and anticipate opening the TAP platform for liquidity providers in Q1 2020.
SOURCE Assured Asset Management Limited