Florida Realtors® 2019 Convention & Trade Expo Offers Success Strategies, Tips to Boost Business
Reading Time:
3
minutes
Success strategies from top industry leaders, the latest in high-tech devices and a chance to network with other real estate professionals: That's what the Florida Realtors® 2019 Convention & Trade Expo offers – opportunities to boost business and the bottom line.
This year's Convention & Trade Expo takes place Aug. 21-22, 2019, at the Rosen Shingle Creek resort in Orlando, with the popular REBarCamp slated to kick off the event on Tuesday, Aug. 20. Then Realtor members will get down to the business of the state association and wrap up the week with governance meetings, Aug. 23-25, 2019.
"Florida Realtors 2019 Convention and Trade Expo is the one business event this year that every Realtor should attend," says 2019 Florida Realtors President Eric Sain, a Realtor and district sales manager with Illustrated Properties in Palm Beach. "Over the course of just two days, Realtors have the chance to learn successful business strategies from top industry leaders, get new marketing tips, hear inspirational speakers offer advice from the trenches, network with colleagues and enjoy exciting entertainment. Florida Realtors' annual convention provides outstanding value to anyone interested in the latest trends, technology and best practices. I'll be there – will you?"
The 2019 convention features more than 40 education sessions from top industry speakers on various topics such as new trends in real estate, disaster recovery planning, Florida's water crisis, how to make the most of the home-share trend, video marketing, Florida's evolving cannabis laws, best practices for brokers and much more.
Convention highlights
REBarCamp: 

Aug. 20

, 

9:30 a.m. – 5:30 p.m.

; registration sign-in starts at 

8:30 a.m.


This year marks the 10th year for the event's peer-to-peer learning and sharing. However, industry powerhouses are on tap to facilitate sessions, including: 

Sean Carpenter

, 

Jay Thompson

, 

Nick Baldwin

 and 

Tristan Ahumada

 with Lab Coat Agents to name a few. More than 500 Realtors attended last year's REBarCamp. Cost for day, which includes lunch and the After Party, is 

$15

. Register through Eventbrite to guarantee a ticket.
General Session Keynote: 

Aug. 21

, 

1:30 – 2:30 p.m.


Songwriter and Grammy-nominated Top 40 singer 

John Ondrasik

, also known as Five for Fighting, brings home his message of "Harnessing Inspiration and Creativity to Design the World You Want" on piano and guitar. One complimentary ticket is included with full convention registration. One additional ticket can be purchased by full convention attendees for 

$30

.
Dance Party with "Party on the Moon": 

Aug. 21

, 

8 – 11 p.m.


Returning for the 5th year in a row, American's No. 1 Party Band, Party on the Moon delivers a high-energy evening of the latest dance music, '80s classic rock, Latin, disco/funk, R&B and Motown. This 13-piece band – with singers, musicians and dancers – has performed worldwide. One complimentary ticket for the party is included with full convention registration. Additional tickets can be purchased by any attendee for 

$30

.
Awards Luncheon, featuring entertainment by the Funkywunks: 

Aug. 22

, 

noon – 1:30 p.m.

 
Florida Realtors honors Realtor excellence and service at this ticketed event, including recognizing the Humanitarian of the Year and Realtor of the Year and other award winners. 

Orlando

 dance troupe the Funkywunks was a contender on the World of Dance TV show in 2018, making it to the third week of the duels. Judges praised their high-energy, funky and entertaining routines, specifically noting the group's commitment and innovative choreography. Tickets for the Awards Luncheon are 

$50

 and will be sold until noon on 

Aug. 22

, or as long as they're available.
Closing Session Keynote with 

Ryan Serhant

: 

Aug. 22

, 

4 – 5p.m.

 
Learn Serhant's professional secrets, as the super sales broker and Bravo TV star tells his rags-to-riches story: "The Four W's: How identifying Your Way, Work, Wall & Win Leads to Success." One complimentary ticket is included with full convention registration. One additional ticket can be purchased by full convention attendees for 

$30

.
The Trade Expo, 

Aug. 21

, 

9 a.m. – 6 p.m.

, and 

Aug. 22

, 

8:30 a.m. – 4 pm

.
The expo features more than 200 industry experts and exhibitors showcasing the latest marketing and technology products. Attendance to the Trade Expo (Expo only admittance) is free!
Some of the sponsors for the 2019 convention include: Title Sponsor, BoomTown!; Titanium Association Sponsors, RAPB +GFLR, (Realtors Association of the Palm Beaches and Greater Fort Lauderdale Realtors) and Miami Realtors; Titanium Sponsors, Northeast Florida Association of Realtors, RealtyWEB.net, Metro Market Trends and Stellar MLS; Diamond Association Partner, Orlando Regional Realtor Association; Ruby Association Partner Sponsor, Royal Palm Coast Realtor Association; Gold Partners, Century 21 and realtor.com; Sapphire Association Partner Sponsor, Naples Area Board of Realtors; Vehicle Sponsor, FCA – Fiat Chrysler Automobiles; Emerald Association Partner, Greater Tampa Realtors and Realtor Association of Sarasota and Manatee; Popcorn Sponsor, Form Simplicity; Registration Bag Sponsor, Florida Realtors PAC; Notepad Sponsor, Find a Mortgage Broker.com; Interactive Wall Sponsor, wizehire; General Sponsors, American Home Shield, America's Title Corp., gte financial, Realtors Association of Citrus County, Dot Loop, HomeSnap, HomeTeam Inspection Service, Freedomtax International, Loan Genuis, NARPM, Supreme Title and Escrow and Tenantreports.com.
Register online through Aug. 12 for the Florida Realtors convention or by calling 1-800-669-4327. The full event registration fee for members is $150 through July 19 and $160 from July 20 – Aug. 12, 2019. The cost is $175 for non-members through July 19 and $185 from July 20 – Aug. 12. After Aug. 12, registration will be handled at the convention site. For more info, check out http://convention.floridarealtors.org/.
Florida Realtors® serves as the voice for real estate in Florida. It provides programs, services, continuing education, research and legislative representation to its more than 187,000 members in 52 boards/associations. Florida Realtors® Media Center website is available at http://media.floridarealtors.org.
SOURCE Florida Realtors
Penta Security and R3 Announce Strategic Partnership for Digital Asset Management and MPC Technology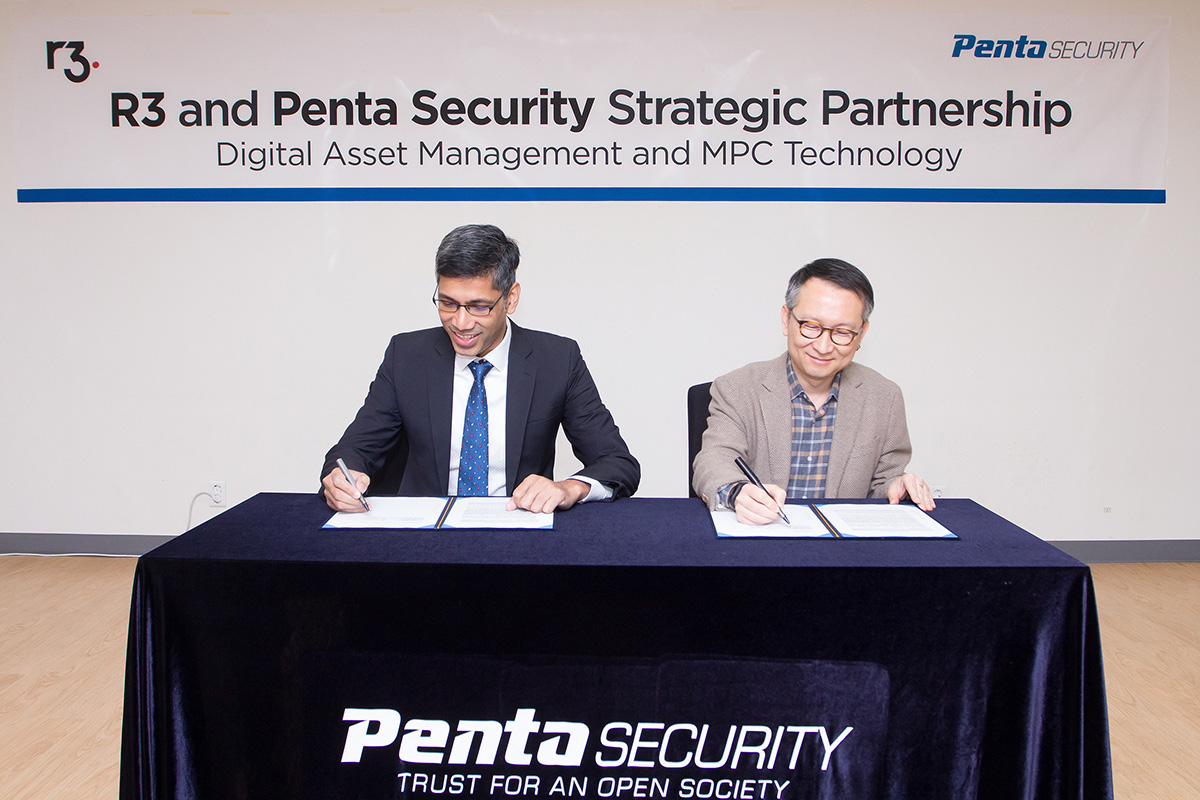 Penta Security and blockchain software firm R3 today announced that they have entered into a global strategic partnership for digital asset management and MPC (Multi-Party Computation) technology, combining Penta Security's technologies and R3's extensive enterprise blockchain platform, Corda.
With technology and services playing a critical role in digital asset payment and management aspects, the demand for a safer digital asset and private key management solution is dramatically increasing. The partnership brings together deep skills in MPC, blockchain key management solutions, technology development, and deployment in the finance sector via R3's enterprise blockchain platform Corda.
As a result, Penta Security is devoted to expanding in the finance industry with its MPC technology which is based on the secret-sharing algorithm, and PALLET, an advanced key management solution for blockchain. Both parties will be heading to achieve goals through various new projects by forming a software enterprise firm, in addition to deploying Penta Security's MPC technology on R3's major projects.
Dr. Sim, Chief Technology Officer at Penta Security, said: "There's no doubt that the private key to successful blockchain deployment is the most important asset. We believe Penta Security's MPC and digital asset management technology can provide an ideal key protection solution for both blockchain and digital asset key protection. By diversifying our offerings through strategic partnerships, we're excited to be devoting our expertise in the evolving blockchain scene."
Cathy Minter, Chief Revenue Officer at R3, said: "The creation of a new market, powered by digital assets, is one of the most exciting promises of blockchain technology. Coupling our Corda platform with Penta Security's MPC technology will be one step closer to addressing the industry demand for secure digital asset management. We are proud to be partnering with Penta Security to deliver an industry-leading solution and look forward to them achieving continued success in the future."
SOURCE Penta Security Systems
FiO Fixes Wine, Gaming and Fitness Industry Pain Points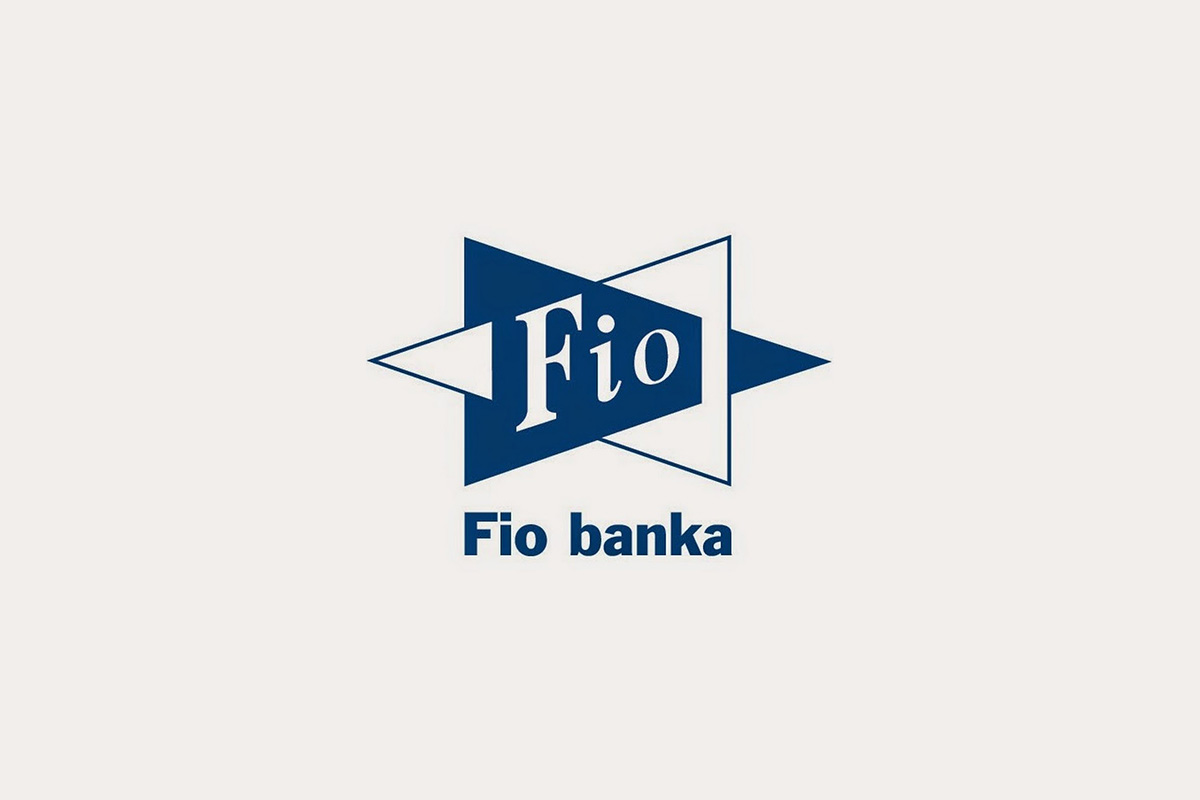 Innovative SaaS platform FiO is expected to release details on how its blockchain-onboarding service solves long-existing problems in wine provenance, online gaming and fitness tracking next week.
FiO merges the latest blockchain technology and GPG encryption with existing ledger software to create easy-to-use decentralized solutions for conventional businesses.
The company's FiO software boasts a conventional form factor and simple templates to create a painless experience for non-technical users. Only 3 simple onboarding steps are required: user registration, service selection and finally, a connection to their API.
FiO's "plug & play" technology aims to fix inherent issues that have long plagued traditional industries. For example, with counterfeit wines a multi-billion dollar problem, FiO enables a reliable and immutable traceability platform for wine products as they make their way from the vineyard to the consumer.
Through FiO's simple blockchain tool, users can create a robust decentralized ledger and shareable digital certification pertaining to a wine's appellation, winemaker, vintage year and shipping and storage. This enhanced ability to record the production, obtaining and selling of wine should foster greater trust between producers, distributors, resellers and collectors.
In recent years the fitness industry has seen a boom in wearable, biometric devices that track the end-user's fitness regime and health vitals. FiO allows fitness gyms to integrate AI-enhanced features without compromising customer privacy. Gym users can consolidate their health and fitness training data from wearables, equipment and even medical service providers in one location, import token economy items and connect with social fitness influencers and networks.
The gaming industry, currently worth $150 billion per year, is predicted to double in value by 2022, with an increasing demand for B2B game development solutions that build and manage in-game item economies.
Until now, players could only trade and sell their virtual items directly or on third-party websites, with little protection against fraud, hacking and theft.
With FiO, game developers can now facilitate the easy and secure transfer of in-game items and rewards between players through their existing wallets. This increased functionality and fungibility of gaming rewards through blockchain will likely attract new players to the industry.
FiO made it clear that its platform is highly flexible and its benefits can be applied to nearly any conventional businesses. The company, currently in its final fundraising round, welcomes interested parties to get in touch.
SOURCE FiO
Crypto Earn: Now Earn 8% p.a. on EOS Deposits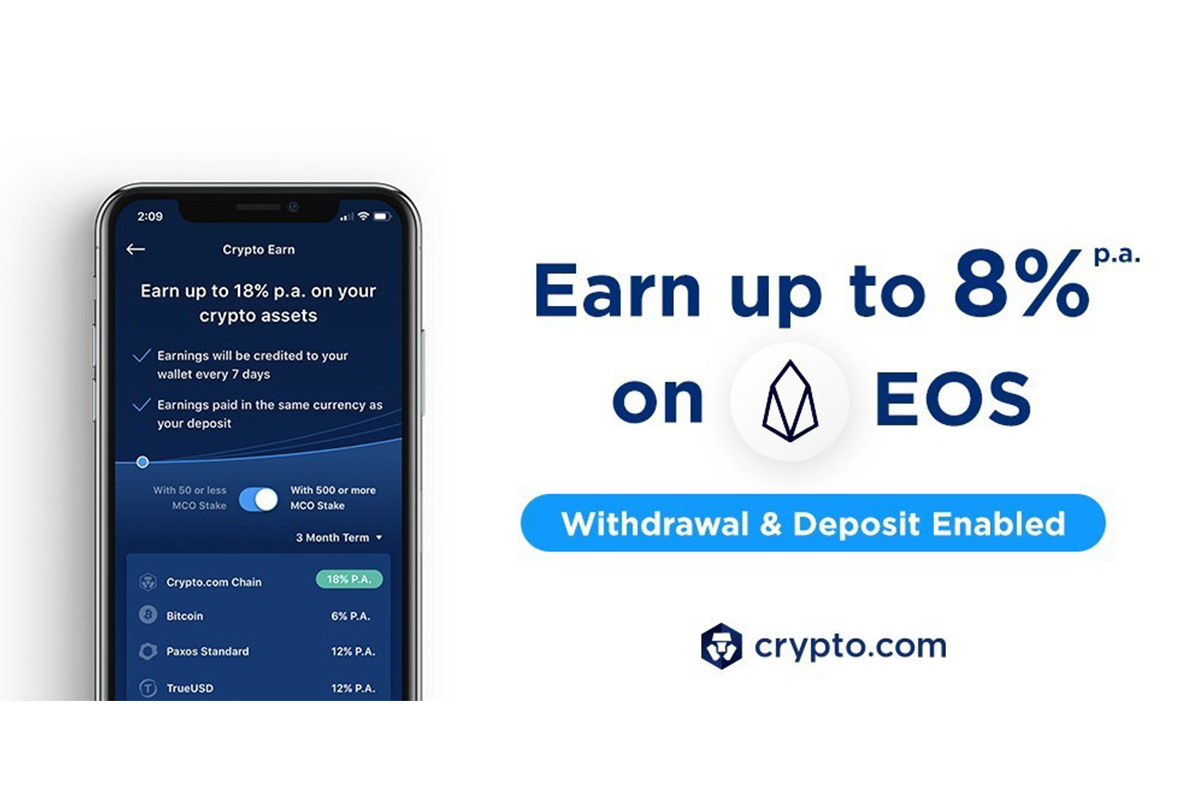 Crypto.com, the pioneering payments and cryptocurrency platform, announced today that it has added EOS to Crypto Earn, allowing users to enjoy up to 8% p.a. on their deposits.
In addition to having EOS available in Crypto Earn, deposit and withdrawal of EOS is also enabled on the Crypto.com App.
EOS.IO is a free, open-source blockchain software protocol that provides developers and entrepreneurs with a platform on which to build, deploy and run high-performing blockchain applications. It is currently supporting over 260 projects.
Crypto Earn now supports 16 coins including BTC, ETH, LTC, XRP, BNB, TUSD, PAX, USDC, MCO, BAT, LINK, CRO, MKR, DAI, PAXG with the addition of EOS. Interest is paid out weekly in the coin deposited with flexible, 1-month or 3-month terms available. Users earn more by staking at least 500 MCO.
Note: For the U.S. users, both deposit and withdrawal of EOS and Crypto Earn deposit in EOS are initially available in 38 states: Alaska, Arizona, Arkansas, California, Colorado, Delaware, Florida, Illinois, Indiana, Iowa, Kansas, Kentucky, Maine, Maryland, Massachusetts, Michigan, Minnesota, Mississippi, Missouri, Montana, Nebraska, Nevada, New Hampshire, New Jersey, North Dakota, Ohio, Oklahoma,  Pennsylvania, Rhode Island, South Carolina, South Dakota, Tennessee, Texas, Utah, Virginia, West Virginia, Wisconsin, and Wyoming.
SOURCE Crypto.com