MEDSiS Announces the Launch of "Maxwell" Stablecoin in Brazil, Making it the Second Country and Currency Added to Their Global Ecosystem Within Two Weeks
Reading Time:
2
minutes
In the same week that MEDSiS announced the official advancement of their Maxwell stablecoin in Argentina with their partner WTIA, a second country now officially comes on board toward their global strategy.  With current contracts in Brazil that include more than 10 million individuals immediately, and with plans to incorporate Maxwell as the backing of future contracts into South America's largest country, Maxwell now adds a second currency to its portfolio and secures itself as one of the largest cryptocurrencies ever launched. In addition, MEDSiS has plans to announce a US partnership, as well as three more countries in Central and South America.
"We've been fortunate to have a team and partnerships in Brazil that have weathered the storm and the delays that it's taken us to get to this point. Our partners in CLASP have been amazing, and it's finally time that we'll be able to fully honor the commitments that have been long standing."
–  Dax Cabrera, CEO of MEDSiS
Though Brazil has not fully endorsed cryptocurrency as an investment mechanism, what Maxwell is bringing to its customers is quite different than the conventional "cryptocurrency".  Using a stablecoin model, Maxwell will be an added value to the Brazilian customers in which they will automatically be able to participate and take part in a regulated and secured portal to the global economy.
MEDSiS' Brazil contracts are based on large-scale payment programs, tied to pre-paid payment cards branded by Visa or Mastercard for benefits and other types of government or individual spending. The inclusion of Maxwell provides stability and one issued coin to every customer that registers and begins using the payments platform.  The integration with the multi-currency payments platform, provided by Rijndlepay, is the engine to which the payments can be processed, and the fiat and blockchain based currencies create a regulated ecosystem which will provide consumers with trust and additional incentives to use the program.
"Rijndlpay's vision is to enable real-time transactions and settlement between all the stakeholders of any payment ecosystem with any currency, be it fiat or crypto or cross border remittances. The platform can scale to about 15,000 transactions per second. We have developed on hybrid technology that can scale to any model that customers and compliance demands of each country."
–  States Mitish Chitnavis, architect and CEO of Rijndlepay
As one of the newest Unicorn companies in the FinTech space, MEDSiS' investments will bring their current contracts to date and be able to provide new jobs, new sources of revenue, and stability in the payments platform.
"The MEDSiS platform will usher in a new era of business management and intelligence for our largest Brazilian customer, CLASP," says MEDSiS co-founder and chairman of the board, Patrick Mulcahy. "Our platform paves a technological highway to access the most advanced business intelligence and security available today and in the future.  And by building it into the financial platform framework of our contracts, we expect our ecosystem will set a new standard for the payments industry."
In a time of economic uncertainty, MEDSiS and the Maxwell stablecoin currency are stepping up in at least two major markets to be the first wide-scale blockchain currency applied to both public and private contracts.  MEDSiS is currently partnered with CiaGroup in Brazil for card issuance, and is expanding their partnerships to include and absorb other licensed financial entities, setting a new, highly regulated and secure model for the rest of the Americas.
SOURCE MEDSiS International
Penta Security and R3 Announce Strategic Partnership for Digital Asset Management and MPC Technology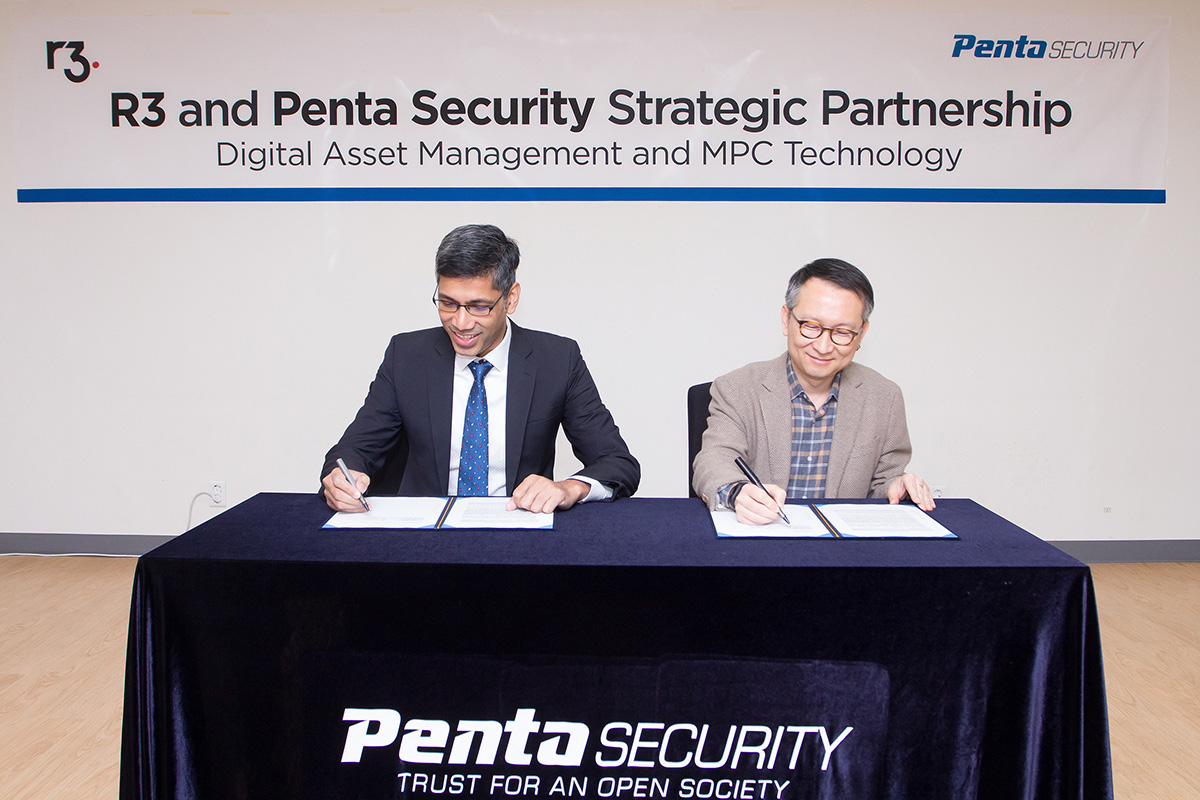 Penta Security and blockchain software firm R3 today announced that they have entered into a global strategic partnership for digital asset management and MPC (Multi-Party Computation) technology, combining Penta Security's technologies and R3's extensive enterprise blockchain platform, Corda.
With technology and services playing a critical role in digital asset payment and management aspects, the demand for a safer digital asset and private key management solution is dramatically increasing. The partnership brings together deep skills in MPC, blockchain key management solutions, technology development, and deployment in the finance sector via R3's enterprise blockchain platform Corda.
As a result, Penta Security is devoted to expanding in the finance industry with its MPC technology which is based on the secret-sharing algorithm, and PALLET, an advanced key management solution for blockchain. Both parties will be heading to achieve goals through various new projects by forming a software enterprise firm, in addition to deploying Penta Security's MPC technology on R3's major projects.
Dr. Sim, Chief Technology Officer at Penta Security, said: "There's no doubt that the private key to successful blockchain deployment is the most important asset. We believe Penta Security's MPC and digital asset management technology can provide an ideal key protection solution for both blockchain and digital asset key protection. By diversifying our offerings through strategic partnerships, we're excited to be devoting our expertise in the evolving blockchain scene."
Cathy Minter, Chief Revenue Officer at R3, said: "The creation of a new market, powered by digital assets, is one of the most exciting promises of blockchain technology. Coupling our Corda platform with Penta Security's MPC technology will be one step closer to addressing the industry demand for secure digital asset management. We are proud to be partnering with Penta Security to deliver an industry-leading solution and look forward to them achieving continued success in the future."
SOURCE Penta Security Systems
FiO Fixes Wine, Gaming and Fitness Industry Pain Points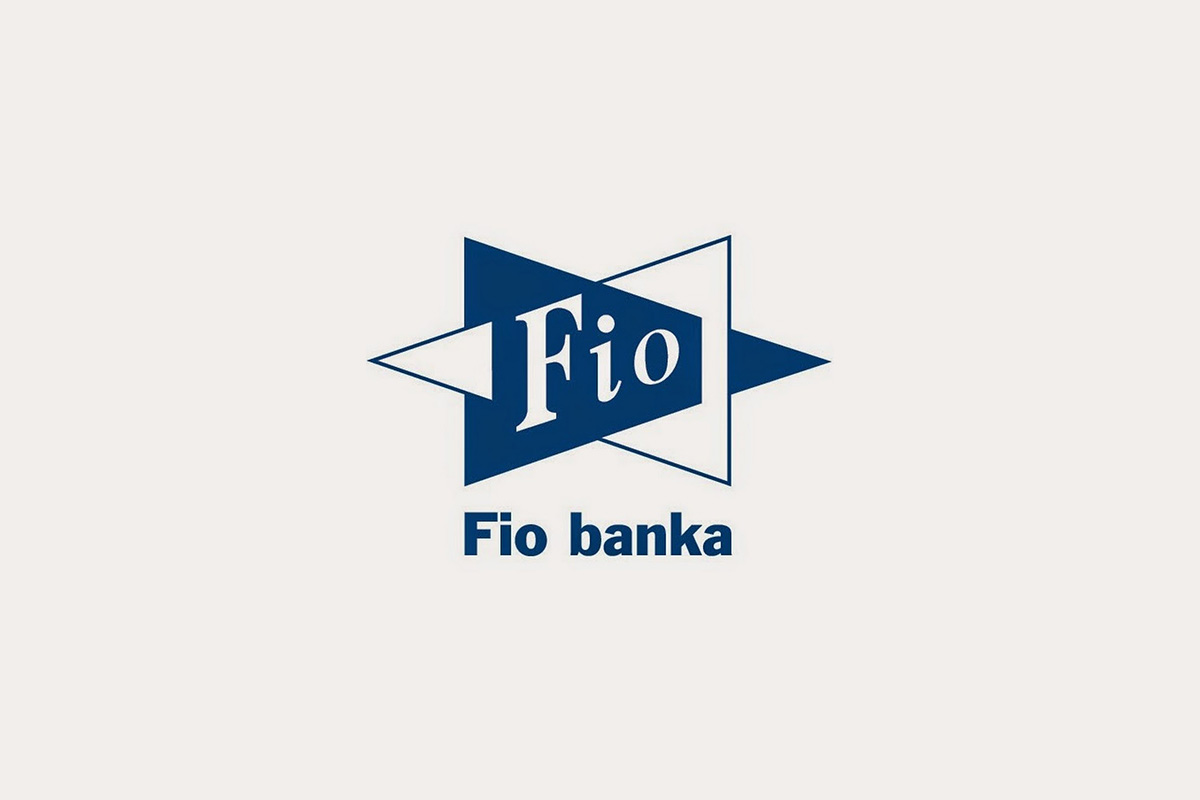 Innovative SaaS platform FiO is expected to release details on how its blockchain-onboarding service solves long-existing problems in wine provenance, online gaming and fitness tracking next week.
FiO merges the latest blockchain technology and GPG encryption with existing ledger software to create easy-to-use decentralized solutions for conventional businesses.
The company's FiO software boasts a conventional form factor and simple templates to create a painless experience for non-technical users. Only 3 simple onboarding steps are required: user registration, service selection and finally, a connection to their API.
FiO's "plug & play" technology aims to fix inherent issues that have long plagued traditional industries. For example, with counterfeit wines a multi-billion dollar problem, FiO enables a reliable and immutable traceability platform for wine products as they make their way from the vineyard to the consumer.
Through FiO's simple blockchain tool, users can create a robust decentralized ledger and shareable digital certification pertaining to a wine's appellation, winemaker, vintage year and shipping and storage. This enhanced ability to record the production, obtaining and selling of wine should foster greater trust between producers, distributors, resellers and collectors.
In recent years the fitness industry has seen a boom in wearable, biometric devices that track the end-user's fitness regime and health vitals. FiO allows fitness gyms to integrate AI-enhanced features without compromising customer privacy. Gym users can consolidate their health and fitness training data from wearables, equipment and even medical service providers in one location, import token economy items and connect with social fitness influencers and networks.
The gaming industry, currently worth $150 billion per year, is predicted to double in value by 2022, with an increasing demand for B2B game development solutions that build and manage in-game item economies.
Until now, players could only trade and sell their virtual items directly or on third-party websites, with little protection against fraud, hacking and theft.
With FiO, game developers can now facilitate the easy and secure transfer of in-game items and rewards between players through their existing wallets. This increased functionality and fungibility of gaming rewards through blockchain will likely attract new players to the industry.
FiO made it clear that its platform is highly flexible and its benefits can be applied to nearly any conventional businesses. The company, currently in its final fundraising round, welcomes interested parties to get in touch.
SOURCE FiO
Crypto Earn: Now Earn 8% p.a. on EOS Deposits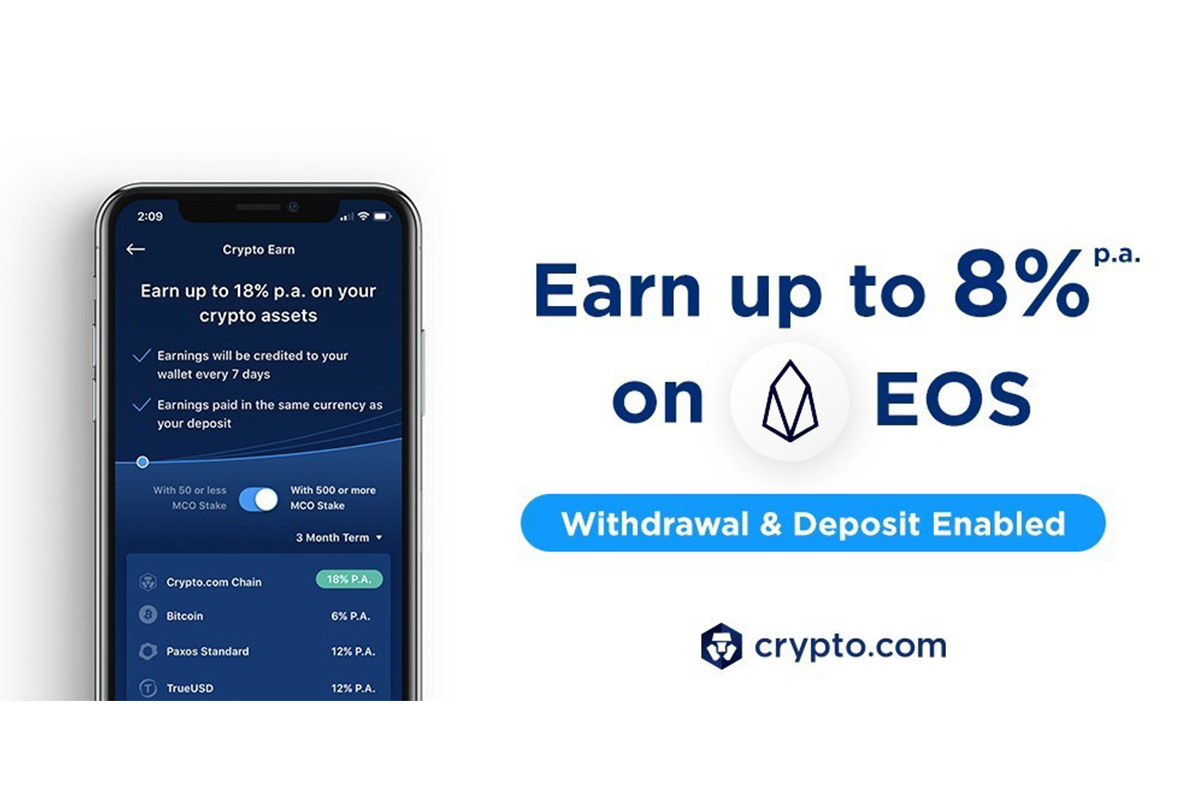 Crypto.com, the pioneering payments and cryptocurrency platform, announced today that it has added EOS to Crypto Earn, allowing users to enjoy up to 8% p.a. on their deposits.
In addition to having EOS available in Crypto Earn, deposit and withdrawal of EOS is also enabled on the Crypto.com App.
EOS.IO is a free, open-source blockchain software protocol that provides developers and entrepreneurs with a platform on which to build, deploy and run high-performing blockchain applications. It is currently supporting over 260 projects.
Crypto Earn now supports 16 coins including BTC, ETH, LTC, XRP, BNB, TUSD, PAX, USDC, MCO, BAT, LINK, CRO, MKR, DAI, PAXG with the addition of EOS. Interest is paid out weekly in the coin deposited with flexible, 1-month or 3-month terms available. Users earn more by staking at least 500 MCO.
Note: For the U.S. users, both deposit and withdrawal of EOS and Crypto Earn deposit in EOS are initially available in 38 states: Alaska, Arizona, Arkansas, California, Colorado, Delaware, Florida, Illinois, Indiana, Iowa, Kansas, Kentucky, Maine, Maryland, Massachusetts, Michigan, Minnesota, Mississippi, Missouri, Montana, Nebraska, Nevada, New Hampshire, New Jersey, North Dakota, Ohio, Oklahoma,  Pennsylvania, Rhode Island, South Carolina, South Dakota, Tennessee, Texas, Utah, Virginia, West Virginia, Wisconsin, and Wyoming.
SOURCE Crypto.com