Meeranda, the Human-Like AI, Officially Launches its Global Operations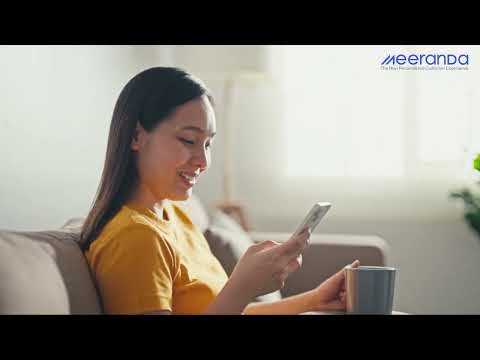 TORONTO, Aug. 17, 2023 /PRNewswire/ — Meeranda, a privately held Artificial Intelligence (AI) solutions provider, serving both Small and Medium Businesses (SMBs) and Global Multinational Corporations (MNCs), announced today its emergence onto the global stage, with the promise to disrupt the worldwide customer experience through its cutting-edge AI technology and research advancements.
Meeranda aims to address a problem that has long frustrated global organizations and their clients; chatbots along with their half-baked AI solutions. A recent IPSOS1 survey revealed that 77% of customers find chatbots frustrating and 88% prefer speaking to a live agent. Another survey, conducted by Clutch2, revealed that 69% of customers encountered irrelevant phone options and 70% pressed "0" to speak with a live agent. Forrester Consulting3, on the other hand, revealed that 30% abandon a brand following a poor chatbot experience and 73% cancel their orders altogether.
Meeranda aims to also address the issue with startups having the tendency to hire too early and larger organizations hiring too many customer support, sales, and marketing staff. Moreover, Meeranda works to tackle the quality issues encountered with outsourcing as well.
"We are not talking about a small problem here," said Mr. Raji Wahidy, Co-Founder and CEO of Meeranda. "The numbers are quite telling. We have over 69% levels of customer dissatisfaction. Chatbots are clearly frustrating many people out there due to the lack of concrete and relevant responses returned. Moreover, people despise waiting on-hold for a long time, to speak with a live agent. We have heard that directly from our partners, whom we have presented Meeranda to. They love the potential. They love the personalized experience through our Human-Like AI. Most importantly, they love the fact that we are addressing their pain points, saving them unnecessary costs, helping them market and sell their products and services, and to cap it off, increasing their customers' satisfaction. There is a reason why Meeranda, although in its early stages, has secured existing agreements and strategic partnerships across six countries and seven industries, thus far."
The Meeranda team is made up of entrepreneurs and senior level executives with a successful track record in innovation and business operations, boasting over 70 years of combined international experience. The team has deep expertise in Artificial Intelligence, Machine Learning, and Data Driven Modeling. The Meeranda team also has over 20 global awards and recognition from public, private, and government institutions; including the United Nations, the Canadian and the United States' governments.
"The recent strides in AI advancement have paved the way for enhanced customer experiences," said Mr. Jayson Ng, Co-Founder and Chief Research Officer of Meeranda. "We are on a mission to foster inclusive customer engagement across diverse cultural landscapes. We envision the adaptability to businesses' unique requirements, which will not only bolster their brand representation, but also cater to a wide array of needs and use cases. During Meeranda's development, significant breakthroughs have been achieved, including the creation of real-time Human-Like AI agents with remarkably natural speech patterns."
Meeranda will commence its Seed Funding round by the end of August 2023.
Reference List
[1] https://www.ipsos.com/en-us/younger-employed-americans-are-more-concerned-about-ai-replacing-their-jobs
[2] https://clutch.co/bpo/resources/virtual-assistants/how-businesses-set-up-ivr-menu
[3] https://voicebot.ai/2023/02/08/30-of-customers-abandon-a-brand-after-a-bad-chatbot-experience-survey
Meeranda is a privately held Artificial Intelligence (AI) solutions provider, serving Small and Medium Businesses (SMBs) and Global Multinational Corporations (MNCs). Meeranda is best known for its Human-Like AI that intends to offer the new personalized customer experience to combat the ongoing frustration of dealing with chatbots and half-baked AI solutions. Although in its early stages, Meeranda already has agreements across six countries and seven industries, thus far.
Follow Meeranda
Website: https://meeranda.com
Media Kit: https://meeranda.com/media-kit/
X: https://x.com/HelloMeeranda
Facebook: https://www.facebook.com/HelloMeeranda/
LinkedIn: https://www.linkedin.com/company/HelloMeeranda
Instagram: https://instagram.com/HelloMeeranda
Threads: https://instagram.com/HelloMeeranda
YouTube: https://www.youtube.com/@meeranda
TikTok: https://www.tiktok.com/@meeranda_ai
Meeranda Inc., Media Relations, [email protected] 
Video – https://www.youtube.com/watch?v=MLLTNSJLMtY
Logo – https://mma.prnewswire.com/media/2187723/Meeranda_Meeranda__the_Human_Like_AI__Officially_Launches_its_Gl.jpg
View original content:https://www.prnewswire.co.uk/news-releases/meeranda-the-human-like-ai-officially-launches-its-global-operations-301903171.html
Webb Unveils Tangle Network Testnet, Pioneering the Future of Private, Decentralized Applications
NEW YORK, Sept. 29, 2023 /PRNewswire/ — Today, Webb announced the launch of its much-anticipated Tangle Network Testnet, setting the stage for a new era of private and decentralized applications.
About Webb
Led by founder Drew Stone, Webb is the premier cross-chain zero-knowledge messaging layer, committed to revolutionizing blockchain privacy. Backed by industry giants like Polychain, Lemniscap, and Commonwealth Labs, Webb introduces a suite of tools aimed at advancing zero-knowledge (ZK) and multi-party computation (MPC) applications across multiple blockchains.
The Challenge and Our Solution
Blockchain networks today face significant hurdles: limited interoperability, scaling difficulties, centralized control, and privacy concerns. Webb's Tangle Network, built on the powerful Substrate framework, is designed to tackle these challenges by offering a next-generation blockchain platform.
Why Tangle Network?
Our vision is to make it easier for developers to create secure, private zero-knowledge (ZK) and multi-party computation (MPC)-based decentralized applications. Tangle Network simplifies:
Proof Generation: Delegate computational tasks to our validators.
Trusted Setups: Tangle Network manages complex ceremonies for you.
Secure Signing: Utilize our threshold signing for cross-chain operations.
By removing these barriers, we massively improve the time to launch for ZK and MPC-based decentralized applications.
Noteworthy Features
Unparalleled speed, security, and scalability via Substrate.
Decentralized control through Distributed Key Generation (DKG).
Advanced protocols for zero-knowledge applications.
Cross-chain compatibility with IBC and XCM.
Easy migration of existing apps through Ethereum Virtual Machine (EVM) support.
Smooth, forkless upgrades.
What's Next?
The Testnet launch kicks off with an in-depth whitepaper, followed by a series of engagement events during the testnet phase. Our mainnet is scheduled for a Q1/Q2 2024 launch, featuring hackathons, workshops, and a targeted grant program to accelerate the adoption of privacy-focused applications.
Testnet Quick Links
Get Involved
Developers: Start building on Tangle today. Learn More
Validators and Relayers: Help secure and maintain the network. Learn More
Contact Us
For media inquiries, partnerships, or more information, email us at [email protected] 
View original content:https://www.prnewswire.co.uk/news-releases/webb-unveils-tangle-network-testnet-pioneering-the-future-of-private-decentralized-applications-301940846.html
ChainUp Celebrates 6th Anniversary, Charting Blockchain Innovations beyond Digital Assets
SINGAPORE, Sept. 29, 2023 /PRNewswire/ — ChainUp, a Singapore-based trailblazer and global leader in the blockchain industry, marked its sixth anniversary celebration with more than 500 business partners at Ce La Vi Singapore. During the celebration, ChainUp Founder and CEO, Sailor Zhong reflected on the journey, "Six years in the blockchain industry showcases our resilience, innovation, and forward-looking approach. As we look to the future, we are committed to shaping a digital asset environment that is reliable, transparent, and unparalleled. ChainUp aims to champion blockchain solutions beyond the applications of digital assets and bridge the gap between digital asset markets and traditional finance (TradFi) to increase effectiveness and market efficiency."
The DEX Renaissance
As decentralized finance (DeFi) comes into prominence and focused on returning control to users, one of the sectors impacted by DeFi are the exchanges where cryptocurrencies are traded. Data from CoinMarketCap reveals that trading volumes on Decentralized exchanges (DEX) reached $1.2 trillion in 2022, indicating a 340% YoY growth. However, factors such as poor user experience impeded the rate of adoption of DEX. Recognizing this trend, ChainUp has updated its white-labeled DEX solution, incorporating advanced features, strengthening its security, improving its liquidity and aims to provide a decentralized trading experience that is on par with commonly-used centralized exchanges (CEX).
Bridging TradFi and Digital Assets Market
The traditional financial sector has been progressing very cautiously on digital assets. As more institutions lean into RWA tokenization, they unlock unparalleled liquidity in a borderless trading environment. Amidst this evolution, ChainUp's RWA solutions emerge as an industry pioneer, offering robust tokenization protocols, seamless integration, and enhanced security, bridging the gap between TradFi and the digital future with unmatched finesse.
Minimizing Risk and Maximizing Security
ChainUp's MPC Wallet revolutionizes crypto security by integrating MPC technology with advanced hardware isolation, ensuring utmost safety and encryption on data. The wallet offers dynamic key-refreshing mechanisms, chain-agnostic compatibility, and eliminates single-point vulnerabilities. With efficient multi-address management and 24/7 expert support, users enjoy full asset control, scalability, and cost-efficiency, all under one roof.
Compliance: The Guiding Principle
Navigating global regulations in the blockchain sector can be complex. ChainUp's KYT subsidiary, Trustformer, offers peace of mind for enterprises tackling compliance-related challenges.  ChainUp's advanced solutions in Anti-Money Laundering (AML) and Counter-Terrorist Financing (CFT) show their commitment to a more secure blockchain environment.
For detailed insights into ChainUp's innovative solutions, please visit: https://www.chainup.com?channel=pr&type=article
About ChainUp
Headquartered in Singapore, ChainUp is a global leading end-to-end blockchain technology solutions provider covering infrastructure development and ecosystem support. Built on the mission to empower businesses through blockchain technology, ChainUp's innovative and all-around compliant solutions include digital asset exchange, KYT, NFT trading, wallet, liquidity, Web3.0 infrastructure, digital asset custody, security token offerings and more. Established in 2017, ChainUp has offices around the world, serving more than 1,000 clients in 30 countries, reaching over 60 million end-users.
CONTACT: Jacelynn Pang, [email protected] 
Photo – https://mma.prnewswire.com/media/2234326/ChainUp_Celebrates_6th_Anniversary_Charting_Blockchain_Innovations_Digital_Assets.jpg
Logo – https://mma.prnewswire.com/media/2190026/ChainUp_A_Full_Colour_V_Logo.jpg
View original content:https://www.prnewswire.co.uk/news-releases/chainup-celebrates-6th-anniversary-charting-blockchain-innovations-beyond-digital-assets-301941862.html
BingX Collaborates with WunderTrading to Elevate Crypto Automated Trading
SINGAPORE, Sept. 27, 2023 /PRNewswire/ — BingX, a leading global cryptocurrency exchange, is thrilled to announce its integration with WunderTrading, a cutting-edge platform that allows users to trade and invest crypto seamlessly using automated trading bots. This strategic partnership is aimed at enhancing the automated trading experience for BingX users and introducing a new level of convenience and innovation.
WunderTrading is a cloud-based cryptocurrency trading platform that simplifies cryptocurrency trading experience for beginners. Users can easily copy strategies of renowned traders or create their own. The platform offers an advanced trading terminal and automated bots integrated with TradingView, allowing users to manage portfolios efficiently within a single app. WunderTrading stands out by consolidating trading tools, enhancing user experience, and introducing unique features like the Spread-trading Terminal.
The integration of BingX and WunderTrading offers BingX users a significant advantage. With access to TradingView integration and the innovative Spread-trading Terminal, users can automate their trading strategies and diversify their portfolios with minimal risk. The Spread-trading terminal enables BingX users to choose assets for constructing a spread and will execute buy and sell orders simultaneously for the selected pairs. This integration empowers BingX users to create and fine-tune crypto trading bots swiftly, providing a unique opportunity to optimize their trading while minimizing market volatility risks.
Megan Nyvold, Head of Branding at BingX, expressed her excitement about the collaboration, saying, "BingX is always striving to offer our users the most innovative and user-friendly tools to navigate the crypto market with efficiency and greater ease. Our partnership with WunderTrading is a significant step forward. With this integration, we empower our users to trade smarter, diversify their portfolios, and navigate the crypto market with newfound confidence. We're excited to see our users leverage the power of automated trading through WunderTrading and make the most of this enhanced trading experience."
As BingX and WunderTrading join forces, users can look forward to an enhanced trading journey filled with innovative tools and features designed to optimize their trading strategies.
About BingX
BingX is a leading crypto exchange that offers spot, derivatives, copy, and grid trading services to over 100 countries and regions worldwide with over 5 million users. BingX continues to connect users with expert traders and the platform in a safe and innovative way. Please visit https://bingx.com to learn about BingX.
Photo – https://mma.prnewswire.com/media/2223312/1920.jpg
Logo – https://mma.prnewswire.com/media/2095392/BingX_New_Logo.jpg
View original content:https://www.prnewswire.co.uk/news-releases/bingx-collaborates-with-wundertrading-to-elevate-crypto-automated-trading-301940692.html