CAIR 'Appalled' by Appointment of Trump's New Acting National Security Adviser Who Served on Board of Anti-Muslim Hate Group
Reading Time:
3
minutes
The Council on American-Islamic Relations (CAIR), the nation's largest Muslim civil rights and advocacy organization, today said it is "appalled" by the appointment of Charles M. Kupperman as acting national security adviser following the resignation of John Bolton.
SEE: NSC official criticized by civil rights groups named acting national security adviser
https://tinyurl.com/CAIRKupperman 
Trump fires national security adviser John Bolton
https://www.latimes.com/politics/story/2019-09-10/trump-fires-john-bolton-twitter
From 2001 to 2010, Kupperman served on the board of the Center for Security Policy (CSP), an organization headed by notorious Islamophobe and conspiracy theorist Frank Gaffney. The Southern Poverty Law Center (SPLC) has identified Gaffney as an anti-Muslim extremist and designated the CSP as a hate group, calling the latter "a conspiracy-oriented mouthpiece for the growing anti-Muslim movement in the United States."
CSP is famous for promoting the conspiracy theory that the Muslim Brotherhood has infiltrated all levels of the U.S. government and that Sharia law is on the rise in America.
SEE: Backgrounder on CSP
http://www.islamophobia.org/islamophobic-organizations/57-center-for-security-policy-csp.html 
SEE: SPLC Designated Hate Groups: Center for Security Policy
https://www.splcenter.org/fighting-hate/extremist-files/ideology/anti-muslim
"While we welcome the resignation of John Bolton, who has a long track record of promoting anti-Muslim policies and associating with hate groups, we cannot simply replace one Islamophobe with another," said CAIR Executive Director Nihad Awad. "CSP has continuously promoted Islamophobic conspiracy theories, and anyone, like Mr. Kupperman, who has so closely associated with them for so long is — at the very least — complicit in their brand of anti-Muslim bigotry and should not be entrusted with one of the highest ranking security roles in the United States."
In January, CAIR opposed Kupperman's appointment as Deputy National Security Adviser, citing the same concerns.
SEE: CAIR Calls on Trump Administration to Drop Security Adviser Who Served on Board of Anti-Muslim Hate Group
https://www.cair.com/cair_calls_on_trump_administration_to_drop_security_adviser_who_served_on_board_of_anti_muslim_hate_group
Backgrounder on Frank Gaffney:
Gaffney is a notorious anti-Muslim conspiracy theorist who has claimed that "most of the Muslim-American groups of any prominence in America are now known to be, as a matter of fact, hostile to the United States and its Constitution."
He is a key promoter of the bizarre conspiracy theory that Muslims in public service are infiltrating the government on behalf of the Muslim Brotherhood.
Gaffney has questioned "whether Mr. Obama is a natural born citizen of the United States," claimed the Missile Defense Agency logo is part of a "worrying pattern of official U.S. submission to Islam," claimed an aide to Hillary Clinton was a secret Muslim Brotherhood operative, was a key witness for the plaintiffs in a controversial lawsuit seeking to block construction of a Tennessee mosque, promoted the debunked claim that Dearborn, Mich., is a "ghetto enclave in which it's Muslim-only," and hosted "white supremacist" Jared Taylor on his "Secure Freedom" radio program.
He has in the past:
Suggested that 

Saddam Hussein

 was behind the 1995 Oklahoma City bombing.
Claimed Gen. David Petraeus, commander of U.S. troops in 

Afghanistan

, was submitting to Islamic law when he condemned the burning of a Quran by a 

Florida

 pastor.
Objected to Reps. 

Keith Ellison

 (D-Minn.) and 

Andre Carson

 (D-Ind.) serving on the House Intelligence Committee because they are Muslim.
Accused Pope Francis of having "rabidly anti-American" views after the pope said it is "not Christian" to urge the deportation of undocumented immigrants and to build a wall between the U.S. and 

Mexico

.
Gaffney was banned from the annual Conservative Political Action Conference in 2011 after accusing fellow Republicans of having ties to the Muslim Brotherhood.
Anders Breivik, the Norwegian mass murderer, cited Gaffney in his anti-Muslim manifesto.
Gaffney's staff attorney, David Yerushalmi, has advocated outlawing the practice of Islam in America and is the key promoter of anti-Islam bills in state legislatures nationwide.
White supremacist and White House senior adviser Steve Bannon hosted Gaffney on his Sirius XM radio show "Breitbart News Daily" 29 times.
On November 9, CAIR will hold its 25th anniversary gala in Washington, D.C.
SEE: CAIR'S 25th Annual Gala
https://www.cair.com/25th_anniversary_banquet
NOTE: Use #CAIRSnapshots on Twitter to view all the short videos highlighting CAIR's important work over the past quarter century. The #CAIRSnapshots campaign is just one of many activities and initiatives leading up to CAIR's 25th anniversary gala.
CAIR is America's largest Muslim civil liberties and advocacy organization. Its mission is to enhance understanding of Islam, protect civil rights, promote justice, and empower American Muslims.
La misión de CAIR es proteger las libertades civiles, mejorar la comprensión del Islam, promover la justicia, y empoderar a los musulmanes en los Estados Unidos.
SOURCE Council on American-Islamic Relations (CAIR)
Penta Security and R3 Announce Strategic Partnership for Digital Asset Management and MPC Technology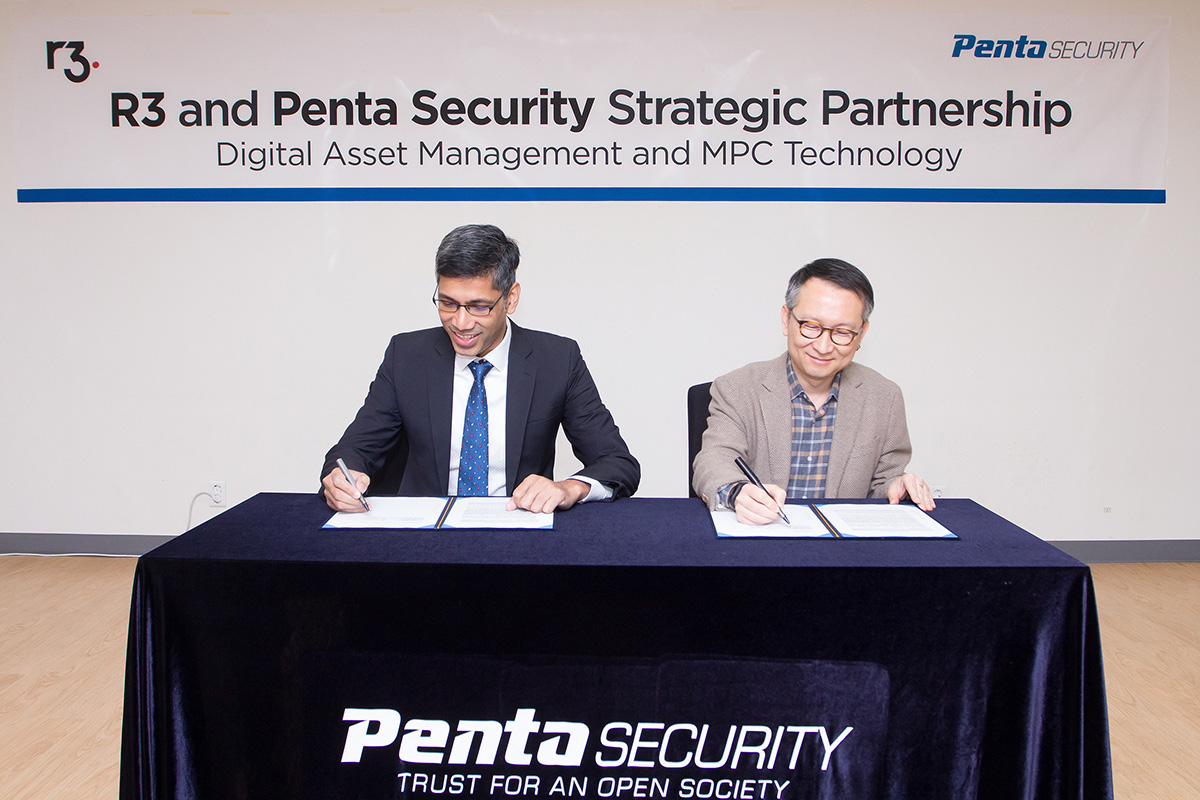 Penta Security and blockchain software firm R3 today announced that they have entered into a global strategic partnership for digital asset management and MPC (Multi-Party Computation) technology, combining Penta Security's technologies and R3's extensive enterprise blockchain platform, Corda.
With technology and services playing a critical role in digital asset payment and management aspects, the demand for a safer digital asset and private key management solution is dramatically increasing. The partnership brings together deep skills in MPC, blockchain key management solutions, technology development, and deployment in the finance sector via R3's enterprise blockchain platform Corda.
As a result, Penta Security is devoted to expanding in the finance industry with its MPC technology which is based on the secret-sharing algorithm, and PALLET, an advanced key management solution for blockchain. Both parties will be heading to achieve goals through various new projects by forming a software enterprise firm, in addition to deploying Penta Security's MPC technology on R3's major projects.
Dr. Sim, Chief Technology Officer at Penta Security, said: "There's no doubt that the private key to successful blockchain deployment is the most important asset. We believe Penta Security's MPC and digital asset management technology can provide an ideal key protection solution for both blockchain and digital asset key protection. By diversifying our offerings through strategic partnerships, we're excited to be devoting our expertise in the evolving blockchain scene."
Cathy Minter, Chief Revenue Officer at R3, said: "The creation of a new market, powered by digital assets, is one of the most exciting promises of blockchain technology. Coupling our Corda platform with Penta Security's MPC technology will be one step closer to addressing the industry demand for secure digital asset management. We are proud to be partnering with Penta Security to deliver an industry-leading solution and look forward to them achieving continued success in the future."
SOURCE Penta Security Systems
FiO Fixes Wine, Gaming and Fitness Industry Pain Points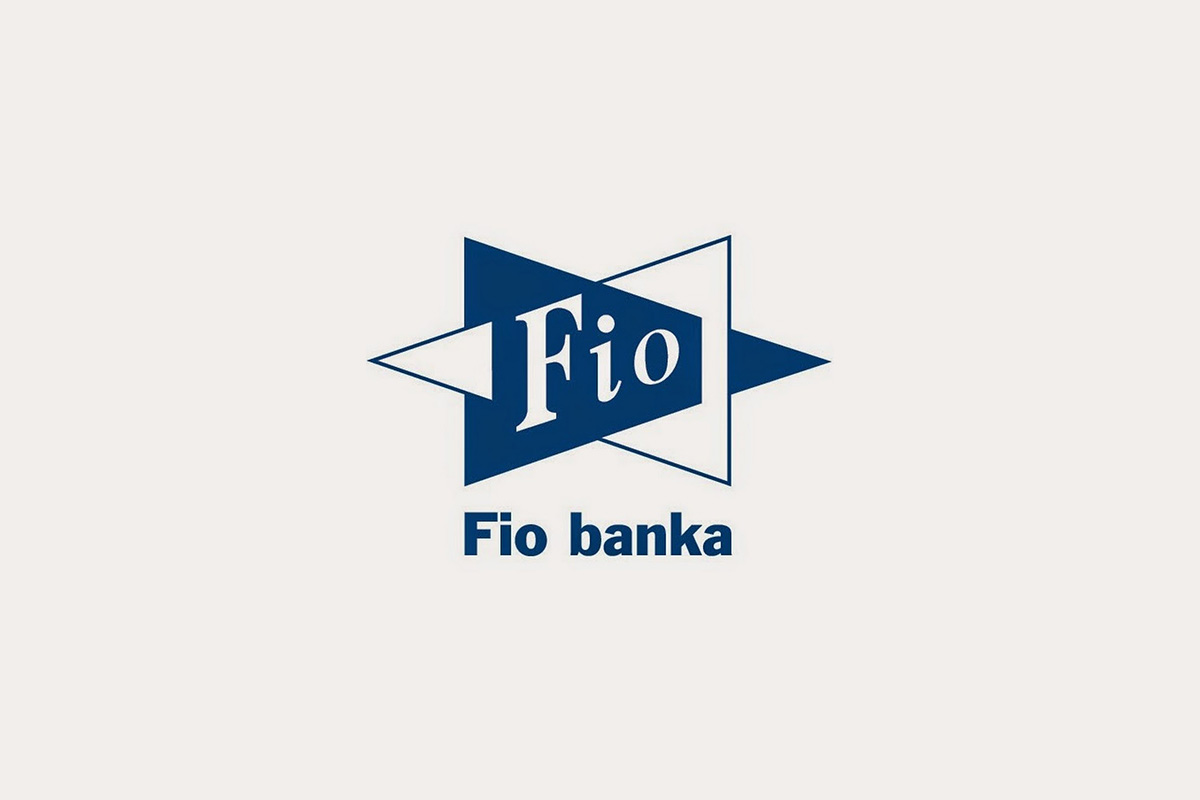 Innovative SaaS platform FiO is expected to release details on how its blockchain-onboarding service solves long-existing problems in wine provenance, online gaming and fitness tracking next week.
FiO merges the latest blockchain technology and GPG encryption with existing ledger software to create easy-to-use decentralized solutions for conventional businesses.
The company's FiO software boasts a conventional form factor and simple templates to create a painless experience for non-technical users. Only 3 simple onboarding steps are required: user registration, service selection and finally, a connection to their API.
FiO's "plug & play" technology aims to fix inherent issues that have long plagued traditional industries. For example, with counterfeit wines a multi-billion dollar problem, FiO enables a reliable and immutable traceability platform for wine products as they make their way from the vineyard to the consumer.
Through FiO's simple blockchain tool, users can create a robust decentralized ledger and shareable digital certification pertaining to a wine's appellation, winemaker, vintage year and shipping and storage. This enhanced ability to record the production, obtaining and selling of wine should foster greater trust between producers, distributors, resellers and collectors.
In recent years the fitness industry has seen a boom in wearable, biometric devices that track the end-user's fitness regime and health vitals. FiO allows fitness gyms to integrate AI-enhanced features without compromising customer privacy. Gym users can consolidate their health and fitness training data from wearables, equipment and even medical service providers in one location, import token economy items and connect with social fitness influencers and networks.
The gaming industry, currently worth $150 billion per year, is predicted to double in value by 2022, with an increasing demand for B2B game development solutions that build and manage in-game item economies.
Until now, players could only trade and sell their virtual items directly or on third-party websites, with little protection against fraud, hacking and theft.
With FiO, game developers can now facilitate the easy and secure transfer of in-game items and rewards between players through their existing wallets. This increased functionality and fungibility of gaming rewards through blockchain will likely attract new players to the industry.
FiO made it clear that its platform is highly flexible and its benefits can be applied to nearly any conventional businesses. The company, currently in its final fundraising round, welcomes interested parties to get in touch.
SOURCE FiO
Crypto Earn: Now Earn 8% p.a. on EOS Deposits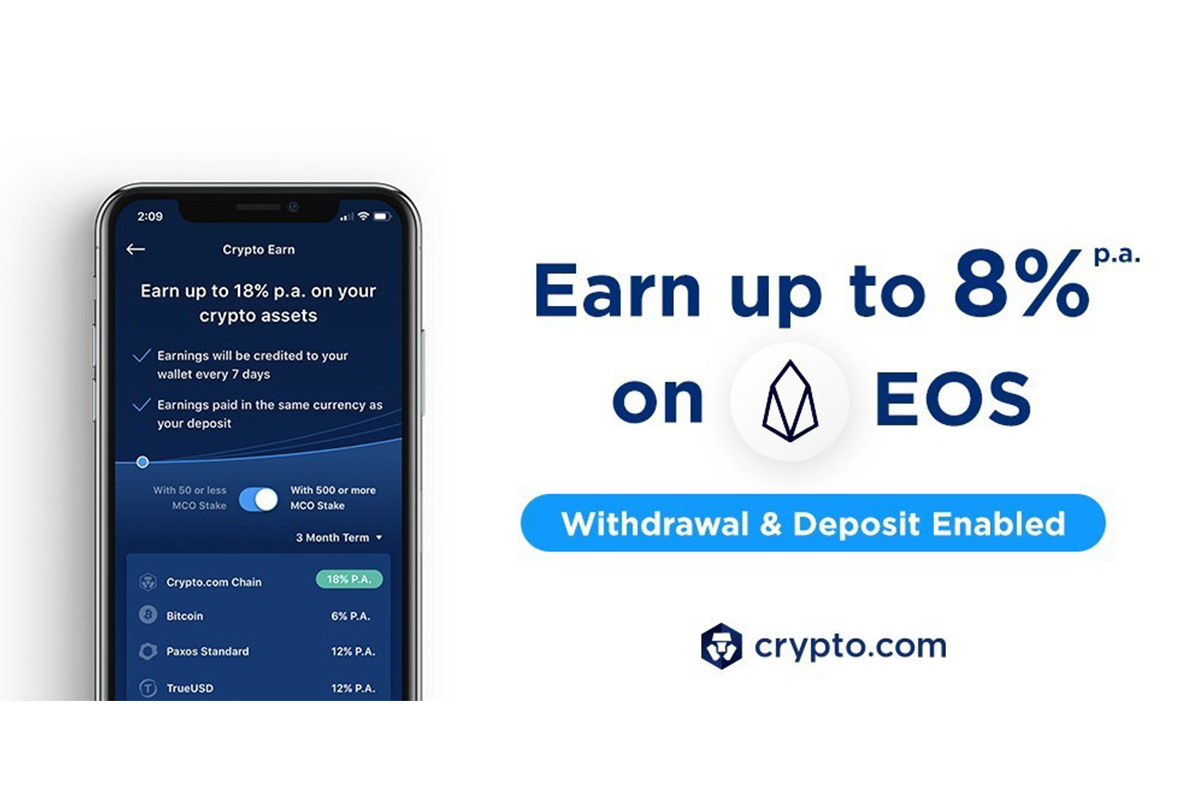 Crypto.com, the pioneering payments and cryptocurrency platform, announced today that it has added EOS to Crypto Earn, allowing users to enjoy up to 8% p.a. on their deposits.
In addition to having EOS available in Crypto Earn, deposit and withdrawal of EOS is also enabled on the Crypto.com App.
EOS.IO is a free, open-source blockchain software protocol that provides developers and entrepreneurs with a platform on which to build, deploy and run high-performing blockchain applications. It is currently supporting over 260 projects.
Crypto Earn now supports 16 coins including BTC, ETH, LTC, XRP, BNB, TUSD, PAX, USDC, MCO, BAT, LINK, CRO, MKR, DAI, PAXG with the addition of EOS. Interest is paid out weekly in the coin deposited with flexible, 1-month or 3-month terms available. Users earn more by staking at least 500 MCO.
Note: For the U.S. users, both deposit and withdrawal of EOS and Crypto Earn deposit in EOS are initially available in 38 states: Alaska, Arizona, Arkansas, California, Colorado, Delaware, Florida, Illinois, Indiana, Iowa, Kansas, Kentucky, Maine, Maryland, Massachusetts, Michigan, Minnesota, Mississippi, Missouri, Montana, Nebraska, Nevada, New Hampshire, New Jersey, North Dakota, Ohio, Oklahoma,  Pennsylvania, Rhode Island, South Carolina, South Dakota, Tennessee, Texas, Utah, Virginia, West Virginia, Wisconsin, and Wyoming.
SOURCE Crypto.com