Reading Time:
2
minutes
Sotheby's International Realty Affiliates LLC announced the highest annual return in history in 2018, with its partners reaching a total sales volume exceeding over 112 billion dollars. Greece Sotheby's experienced one of the highest growth rates worldwide, greatly consolidating its leading position in the local market.
Mr. Savvas Savvaidis, President and Managing Director of Greece Sotheby's International Realty, gave a concise report about the results for Greece following the publication of the financial results for the year 2018:
"Having completed a year which was characterised by tough and targeted work, we are pleased to announce that Greece Sotheby's International Realty tripled its sales volume in 2018 compared to the previous year, effectively reinforcing its leading position in the luxury real estate market in Greece. Within just 24 months of operation, we have achieved the highest recorded sales by a company in Paxos, Naxos and Ios, while over the past 6 months we have completed the highest volume of residential agreements in Mykonos. At the same time, we have also seen a significant increase in Rhodes and Corfu as a result of the international marketing strategy we have pursued. The outstanding results, both locally and globally, are sound confirmation of a business culture which recognizes that the clients' interests are our most valuable asset. By capitalizing on the strength of our name, building a strong talent pool, working with experienced professionals, and continuing to choose the best property in the country, we are heading towards an exciting and ambitious 2019."
Sotheby's International Realty continued to grow in major European markets during the financial year 2018, such as Spain, Germany, Austria, Slovakia and Switzerland. At the same time, 2018 saw the sale of its rights in Cyprus. In Asia, new offices were inaugurated in Sri Lanka and Thailand, while expansion agreements were signed in Indonesia, Vietnamand the Maldives.
"Experts predicted that 2018 would be a year in which the global real estate market would move sluggishly," said Philip White, Sotheby's International Realty Affiliates LLC's Chairman and Chief Executive Officer. "Despite all of the forecasts, our highly trained companies and affiliate vendors have continued to make the most of their potential, achieving a truly remarkable annual increase in sales. We plan to continue with the same fortitude in 2019 and reinforce Sotheby's International Realty's network by offering innovative products, tools and research that will enable a top-level service in our sector. "
SOURCE Greece Sotheby's International Realty
Penta Security and R3 Announce Strategic Partnership for Digital Asset Management and MPC Technology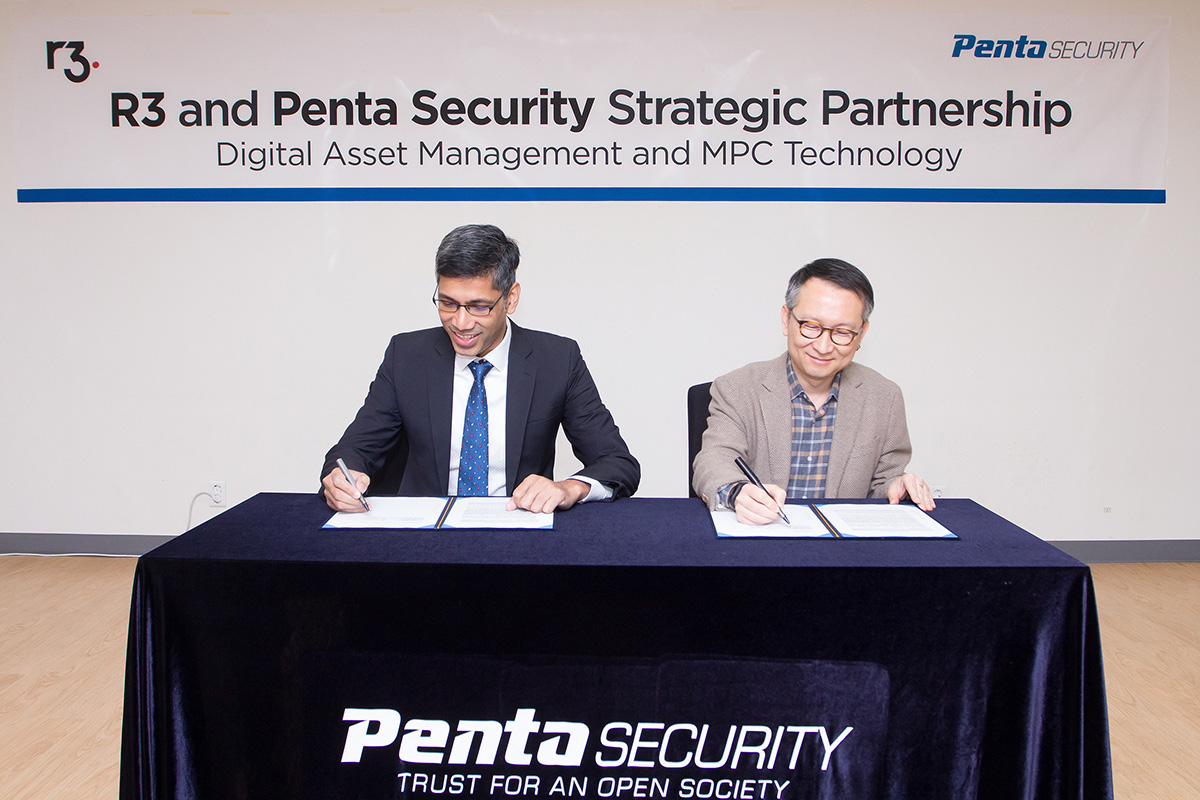 Penta Security and blockchain software firm R3 today announced that they have entered into a global strategic partnership for digital asset management and MPC (Multi-Party Computation) technology, combining Penta Security's technologies and R3's extensive enterprise blockchain platform, Corda.
With technology and services playing a critical role in digital asset payment and management aspects, the demand for a safer digital asset and private key management solution is dramatically increasing. The partnership brings together deep skills in MPC, blockchain key management solutions, technology development, and deployment in the finance sector via R3's enterprise blockchain platform Corda.
As a result, Penta Security is devoted to expanding in the finance industry with its MPC technology which is based on the secret-sharing algorithm, and PALLET, an advanced key management solution for blockchain. Both parties will be heading to achieve goals through various new projects by forming a software enterprise firm, in addition to deploying Penta Security's MPC technology on R3's major projects.
Dr. Sim, Chief Technology Officer at Penta Security, said: "There's no doubt that the private key to successful blockchain deployment is the most important asset. We believe Penta Security's MPC and digital asset management technology can provide an ideal key protection solution for both blockchain and digital asset key protection. By diversifying our offerings through strategic partnerships, we're excited to be devoting our expertise in the evolving blockchain scene."
Cathy Minter, Chief Revenue Officer at R3, said: "The creation of a new market, powered by digital assets, is one of the most exciting promises of blockchain technology. Coupling our Corda platform with Penta Security's MPC technology will be one step closer to addressing the industry demand for secure digital asset management. We are proud to be partnering with Penta Security to deliver an industry-leading solution and look forward to them achieving continued success in the future."
SOURCE Penta Security Systems
FiO Fixes Wine, Gaming and Fitness Industry Pain Points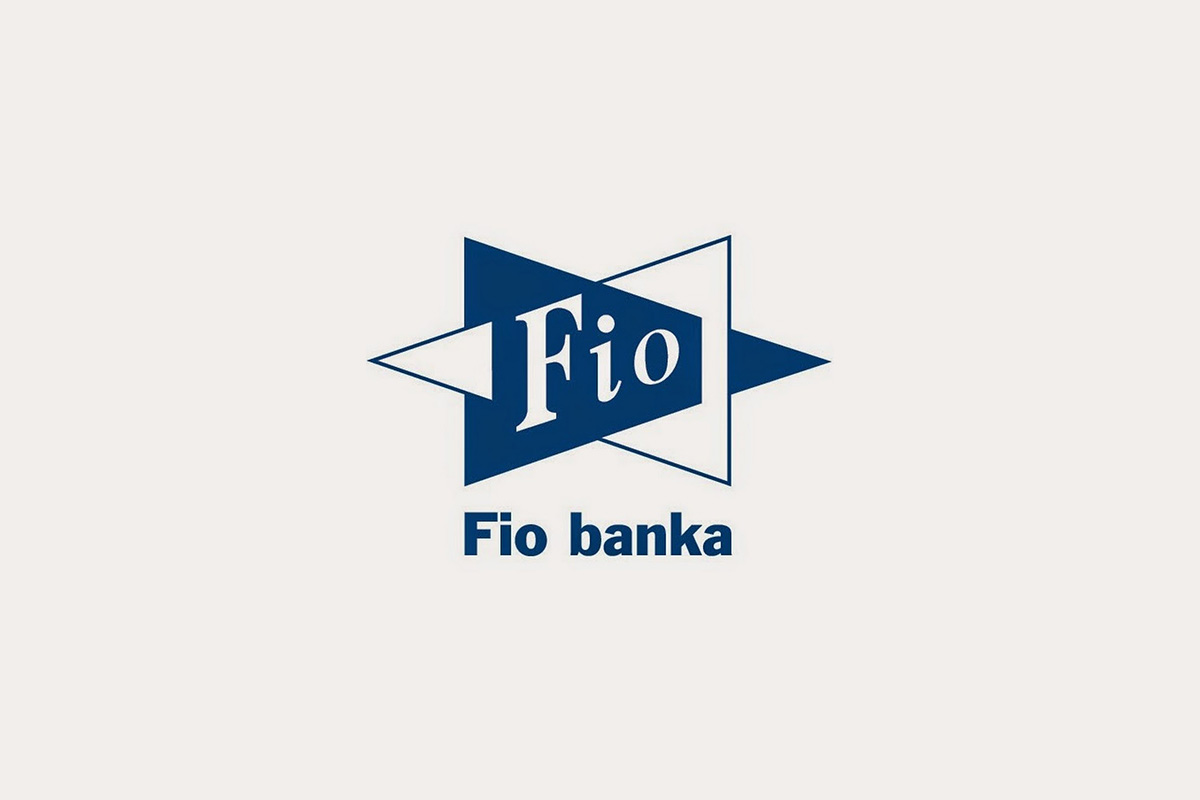 Innovative SaaS platform FiO is expected to release details on how its blockchain-onboarding service solves long-existing problems in wine provenance, online gaming and fitness tracking next week.
FiO merges the latest blockchain technology and GPG encryption with existing ledger software to create easy-to-use decentralized solutions for conventional businesses.
The company's FiO software boasts a conventional form factor and simple templates to create a painless experience for non-technical users. Only 3 simple onboarding steps are required: user registration, service selection and finally, a connection to their API.
FiO's "plug & play" technology aims to fix inherent issues that have long plagued traditional industries. For example, with counterfeit wines a multi-billion dollar problem, FiO enables a reliable and immutable traceability platform for wine products as they make their way from the vineyard to the consumer.
Through FiO's simple blockchain tool, users can create a robust decentralized ledger and shareable digital certification pertaining to a wine's appellation, winemaker, vintage year and shipping and storage. This enhanced ability to record the production, obtaining and selling of wine should foster greater trust between producers, distributors, resellers and collectors.
In recent years the fitness industry has seen a boom in wearable, biometric devices that track the end-user's fitness regime and health vitals. FiO allows fitness gyms to integrate AI-enhanced features without compromising customer privacy. Gym users can consolidate their health and fitness training data from wearables, equipment and even medical service providers in one location, import token economy items and connect with social fitness influencers and networks.
The gaming industry, currently worth $150 billion per year, is predicted to double in value by 2022, with an increasing demand for B2B game development solutions that build and manage in-game item economies.
Until now, players could only trade and sell their virtual items directly or on third-party websites, with little protection against fraud, hacking and theft.
With FiO, game developers can now facilitate the easy and secure transfer of in-game items and rewards between players through their existing wallets. This increased functionality and fungibility of gaming rewards through blockchain will likely attract new players to the industry.
FiO made it clear that its platform is highly flexible and its benefits can be applied to nearly any conventional businesses. The company, currently in its final fundraising round, welcomes interested parties to get in touch.
SOURCE FiO
Crypto Earn: Now Earn 8% p.a. on EOS Deposits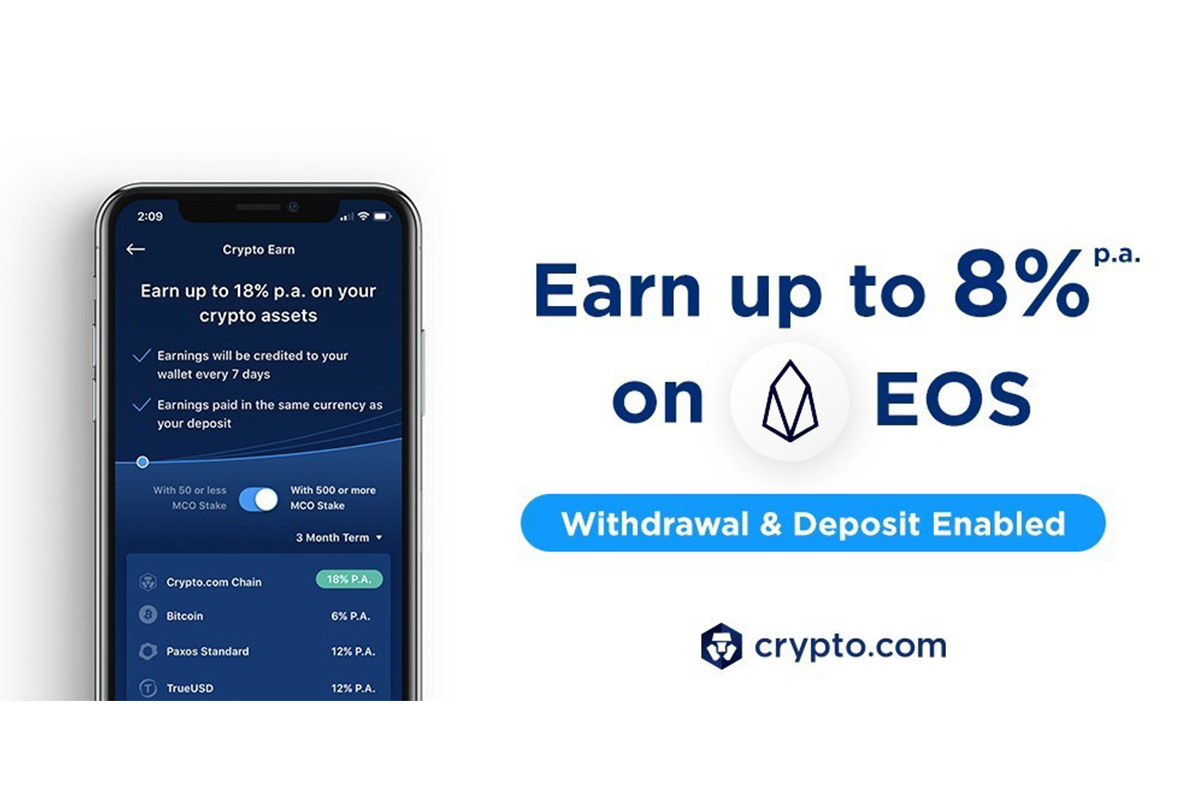 Crypto.com, the pioneering payments and cryptocurrency platform, announced today that it has added EOS to Crypto Earn, allowing users to enjoy up to 8% p.a. on their deposits.
In addition to having EOS available in Crypto Earn, deposit and withdrawal of EOS is also enabled on the Crypto.com App.
EOS.IO is a free, open-source blockchain software protocol that provides developers and entrepreneurs with a platform on which to build, deploy and run high-performing blockchain applications. It is currently supporting over 260 projects.
Crypto Earn now supports 16 coins including BTC, ETH, LTC, XRP, BNB, TUSD, PAX, USDC, MCO, BAT, LINK, CRO, MKR, DAI, PAXG with the addition of EOS. Interest is paid out weekly in the coin deposited with flexible, 1-month or 3-month terms available. Users earn more by staking at least 500 MCO.
Note: For the U.S. users, both deposit and withdrawal of EOS and Crypto Earn deposit in EOS are initially available in 38 states: Alaska, Arizona, Arkansas, California, Colorado, Delaware, Florida, Illinois, Indiana, Iowa, Kansas, Kentucky, Maine, Maryland, Massachusetts, Michigan, Minnesota, Mississippi, Missouri, Montana, Nebraska, Nevada, New Hampshire, New Jersey, North Dakota, Ohio, Oklahoma,  Pennsylvania, Rhode Island, South Carolina, South Dakota, Tennessee, Texas, Utah, Virginia, West Virginia, Wisconsin, and Wyoming.
SOURCE Crypto.com