Village Farms International Applauds Texas Department of Health and Human Services Actions in Descheduling Hemp and Initiates Selective Breeding Program
Reading Time:
3
minutes
Village Farms International, Inc. ("Village Farms" or the "Company") (TSX: VFF) (NASDAQ: VFF) applauds the actions of the Texas Department of Health and Human Services in descheduling hemp, including its cannabinoids (except for delta-9 tetrahydrocannabinol (THC)) in compliance with the 2018 Farm Act and Texas law.  Under Texas law, the removal of hemp from the controlled substances schedule will be effective on April 5, 2019, 21 days after the schedule's publication. Texas still must pass a hemp bill to enable the creation of a State Hemp Plan under the 2018 Farm Act and develop a thoughtful regulatory regime to support the hemp industry and protect consumers.
Village Farms plans to commence hemp cultivation in a portion of its Monahans, Texas, greenhouse operation upon a State Hemp Plan in Texas becoming effective, or earlier if permitted by Texas law.  In anticipation of the Texas legislation passing, Village Farms has begun design and development of the site-specific growing and technical systems to enable hemp production at the Monahans facility.
"The descheduling of hemp in Texas is a very encouraging step forward and we would like to publicly acknowledge the efforts of all those working in support of the full legalization of hemp in Texas with thanks in particular to lobbyist Susan Hays and the U.S. Hemp Roundtable," said Michael DeGiglio, Chief Executive Officer, Village Farms. "We look forward to the opportunity to work with officials in Texas toward a roll out of hemp production, including the processing and sale of CBD products."
Mr. DeGiglio added, "With the potential for passage of a hemp bill in Texas by the end of this coming May, we are readying a portion of our Monahans greenhouse to be able to commence production quickly upon legalization. Upon legalization, we also plan to initiate an outdoor hemp cultivation program in Texas through our joint venture Village Fields."
Village Farms Initiates Genetics Testing and Trials to Support Large-Scale Commercial Outdoor and Greenhouse Hemp Production
Village Farms also announced that it has initiated a selective breeding program in tandem with genetic testing to support both its commercial scale indoor and outdoor hemp production programs.  The initiative aims to accelerate the development of true-to-type chemical varieties (chemovars), desirable cannabinoid characteristics including high CBD content and low THC levels at crop maturation that are compliant with federally mandated criteria, as well as developing new varieties suitable for specific climates with increased production yields.
Additionally, Village Farms' joint venture, Village Fields, has reserved substantive quantities of seed to support the initiation of field cultivation as soon as legally permitted. As previously announced, Village Fields plans to have 500 to 1,000 acres in production during 2019.  Village Fields also plans to have extraction capabilities in place by the end of 2019 to enable it to begin supplying CBD oil on a wholesale basis while it commences production of branded CBD products for "big box" retailers in 2020. Village Fields intends to conduct its operations in locations where it is fully legal to do so on a federal and state level.
Cautionary Language
Certain statements contained in this press release constitute forward-looking information within the meaning of applicable securities laws ("forward-looking statements"). Forward-looking statements may relate to the Company's future outlook or financial position and anticipated events or results and may include statements regarding the financial position, business strategy, budgets, litigation, projected production, projected costs, capital expenditures, financial results, taxes, plans and objectives of or involving the Company. Particularly, statements regarding future results, performance, achievements, prospects or opportunities for the Company, Pure Sunfarms, the greenhouse vegetable industry or the cannabis and hemp industries are forward-looking statements. In some cases, forward-looking information can be identified by such terms as "outlook", "may", "might", "will", "could", "should", "would", "occur", "expect", "plan", "anticipate", "believe", "intend", "estimate", "predict", "potential", "continue", "likely", "schedule", "objectives", or the negative or grammatical variation thereof or other similar expressions concerning matters that are not historical facts.
Although the forward-looking statements contained in this press release are based upon assumptions that management believes are reasonable based on information currently available to management, there can be no assurance that actual results will be consistent with these forward-looking statements. Forward-looking statements necessarily involve known and unknown risks and uncertainties, many of which are beyond the Company's control, that may cause the Company's or the industry's actual results, performance, achievements, prospects and opportunities in future periods to differ materially from those expressed or implied by such forward-looking statements. These risks and uncertainties include, among other things, the factors contained in the Company's filings with U.S. and Canadian securities regulators, including as detailed in the Company's annual information form and management's discussion and analysis for the year-ended December 31, 2018.
When relying on forward-looking statements to make decisions, the Company cautions readers not to place undue reliance on these statements, as forward-looking statements involve significant risks and uncertainties and should not be read as guarantees of future results, performance, achievements, prospects and opportunities. The forward-looking statements made in this press release only relate to events or information as of the date on which the statements are made in this press release. Except as required by law, the Company undertakes no obligation to update or revise publicly any forward-looking statements, whether as a result of new information, future events or otherwise.
SOURCE: Village Farms International, Inc.
Penta Security and R3 Announce Strategic Partnership for Digital Asset Management and MPC Technology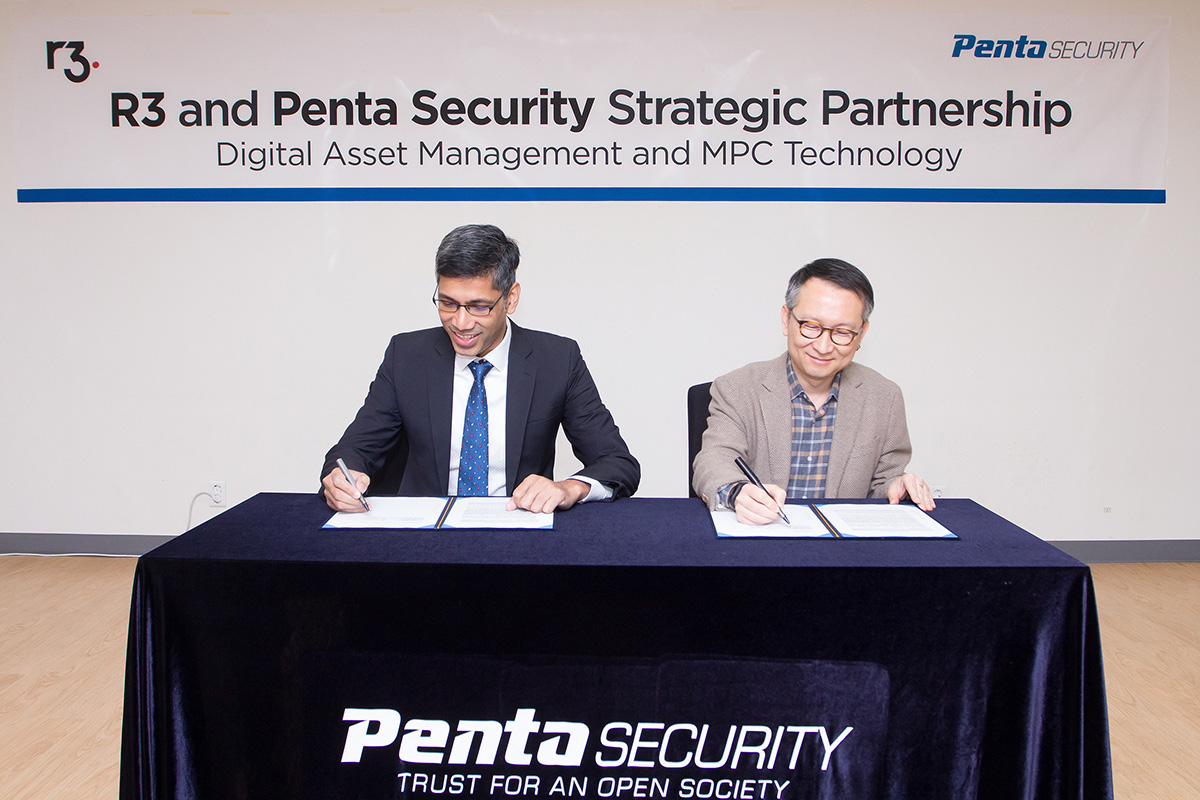 Penta Security and blockchain software firm R3 today announced that they have entered into a global strategic partnership for digital asset management and MPC (Multi-Party Computation) technology, combining Penta Security's technologies and R3's extensive enterprise blockchain platform, Corda.
With technology and services playing a critical role in digital asset payment and management aspects, the demand for a safer digital asset and private key management solution is dramatically increasing. The partnership brings together deep skills in MPC, blockchain key management solutions, technology development, and deployment in the finance sector via R3's enterprise blockchain platform Corda.
As a result, Penta Security is devoted to expanding in the finance industry with its MPC technology which is based on the secret-sharing algorithm, and PALLET, an advanced key management solution for blockchain. Both parties will be heading to achieve goals through various new projects by forming a software enterprise firm, in addition to deploying Penta Security's MPC technology on R3's major projects.
Dr. Sim, Chief Technology Officer at Penta Security, said: "There's no doubt that the private key to successful blockchain deployment is the most important asset. We believe Penta Security's MPC and digital asset management technology can provide an ideal key protection solution for both blockchain and digital asset key protection. By diversifying our offerings through strategic partnerships, we're excited to be devoting our expertise in the evolving blockchain scene."
Cathy Minter, Chief Revenue Officer at R3, said: "The creation of a new market, powered by digital assets, is one of the most exciting promises of blockchain technology. Coupling our Corda platform with Penta Security's MPC technology will be one step closer to addressing the industry demand for secure digital asset management. We are proud to be partnering with Penta Security to deliver an industry-leading solution and look forward to them achieving continued success in the future."
SOURCE Penta Security Systems
FiO Fixes Wine, Gaming and Fitness Industry Pain Points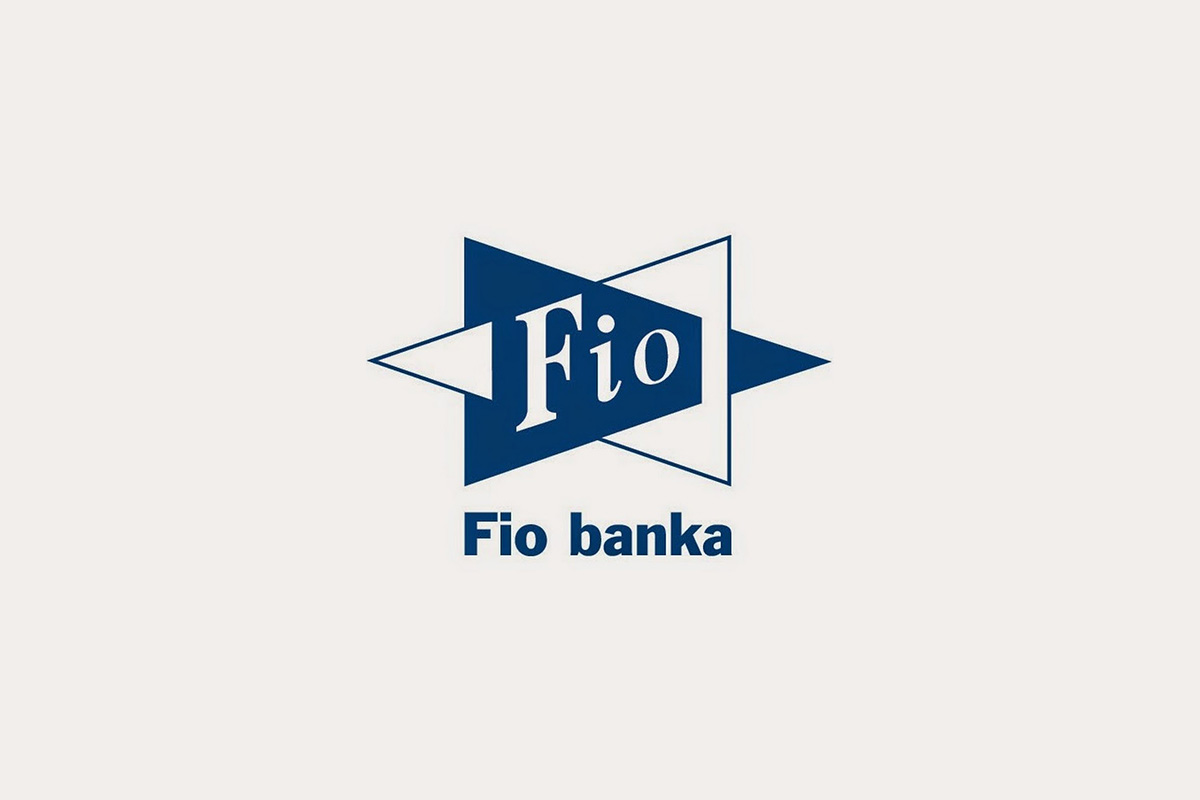 Innovative SaaS platform FiO is expected to release details on how its blockchain-onboarding service solves long-existing problems in wine provenance, online gaming and fitness tracking next week.
FiO merges the latest blockchain technology and GPG encryption with existing ledger software to create easy-to-use decentralized solutions for conventional businesses.
The company's FiO software boasts a conventional form factor and simple templates to create a painless experience for non-technical users. Only 3 simple onboarding steps are required: user registration, service selection and finally, a connection to their API.
FiO's "plug & play" technology aims to fix inherent issues that have long plagued traditional industries. For example, with counterfeit wines a multi-billion dollar problem, FiO enables a reliable and immutable traceability platform for wine products as they make their way from the vineyard to the consumer.
Through FiO's simple blockchain tool, users can create a robust decentralized ledger and shareable digital certification pertaining to a wine's appellation, winemaker, vintage year and shipping and storage. This enhanced ability to record the production, obtaining and selling of wine should foster greater trust between producers, distributors, resellers and collectors.
In recent years the fitness industry has seen a boom in wearable, biometric devices that track the end-user's fitness regime and health vitals. FiO allows fitness gyms to integrate AI-enhanced features without compromising customer privacy. Gym users can consolidate their health and fitness training data from wearables, equipment and even medical service providers in one location, import token economy items and connect with social fitness influencers and networks.
The gaming industry, currently worth $150 billion per year, is predicted to double in value by 2022, with an increasing demand for B2B game development solutions that build and manage in-game item economies.
Until now, players could only trade and sell their virtual items directly or on third-party websites, with little protection against fraud, hacking and theft.
With FiO, game developers can now facilitate the easy and secure transfer of in-game items and rewards between players through their existing wallets. This increased functionality and fungibility of gaming rewards through blockchain will likely attract new players to the industry.
FiO made it clear that its platform is highly flexible and its benefits can be applied to nearly any conventional businesses. The company, currently in its final fundraising round, welcomes interested parties to get in touch.
SOURCE FiO
Crypto Earn: Now Earn 8% p.a. on EOS Deposits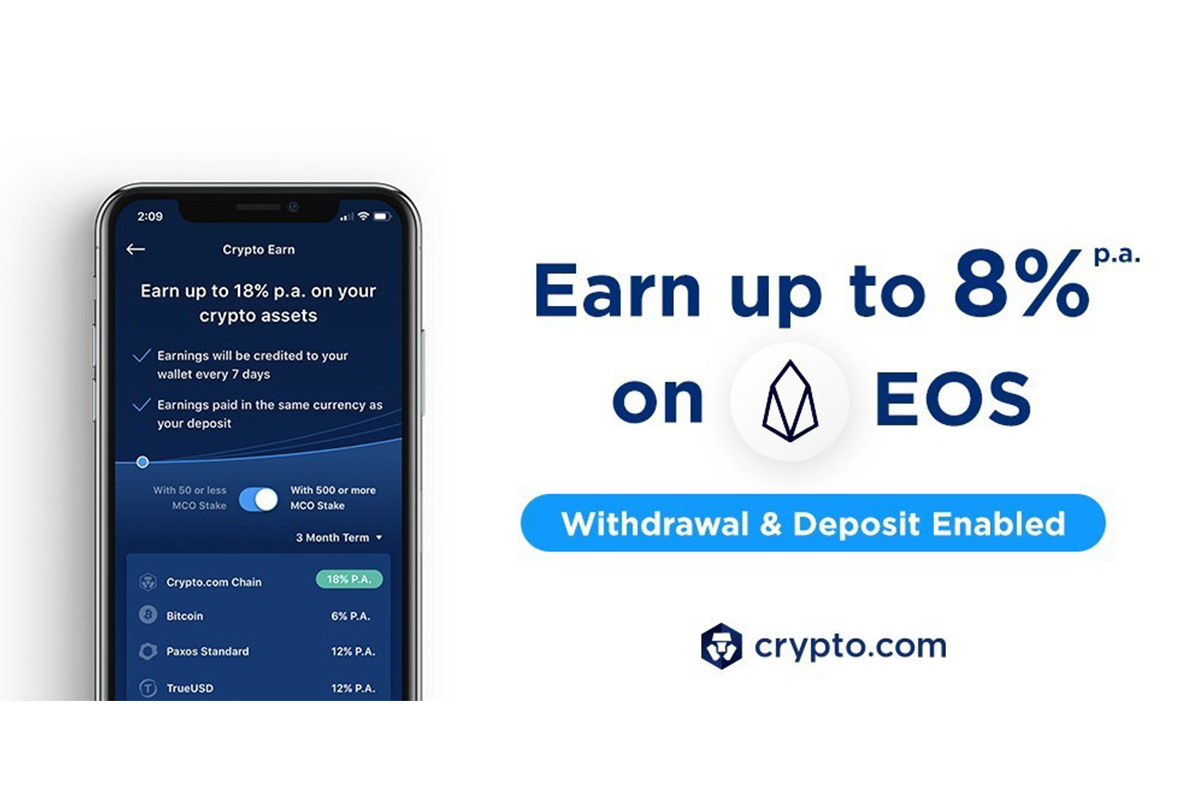 Crypto.com, the pioneering payments and cryptocurrency platform, announced today that it has added EOS to Crypto Earn, allowing users to enjoy up to 8% p.a. on their deposits.
In addition to having EOS available in Crypto Earn, deposit and withdrawal of EOS is also enabled on the Crypto.com App.
EOS.IO is a free, open-source blockchain software protocol that provides developers and entrepreneurs with a platform on which to build, deploy and run high-performing blockchain applications. It is currently supporting over 260 projects.
Crypto Earn now supports 16 coins including BTC, ETH, LTC, XRP, BNB, TUSD, PAX, USDC, MCO, BAT, LINK, CRO, MKR, DAI, PAXG with the addition of EOS. Interest is paid out weekly in the coin deposited with flexible, 1-month or 3-month terms available. Users earn more by staking at least 500 MCO.
Note: For the U.S. users, both deposit and withdrawal of EOS and Crypto Earn deposit in EOS are initially available in 38 states: Alaska, Arizona, Arkansas, California, Colorado, Delaware, Florida, Illinois, Indiana, Iowa, Kansas, Kentucky, Maine, Maryland, Massachusetts, Michigan, Minnesota, Mississippi, Missouri, Montana, Nebraska, Nevada, New Hampshire, New Jersey, North Dakota, Ohio, Oklahoma,  Pennsylvania, Rhode Island, South Carolina, South Dakota, Tennessee, Texas, Utah, Virginia, West Virginia, Wisconsin, and Wyoming.
SOURCE Crypto.com